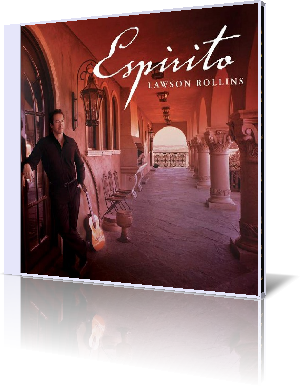 With a vibrant Hispanic community of more than 5 million people, the city of Los Angeles boasts many ways to celebrate Latin American music. No wonder that San Francisco. based Lawson Rollins is infected by this type of music. He consequently started his career last year with the Latin guitar fusion album Infinita.
His sophomore album Espirito he produced with Shahin Shahida (of the Persian-American World Music group Shahin & Sepehr) and Dominic Camardella (3rd Force, Ottmar Liebert). Lawson is supported by singer Flora Purim, percussionist Airto Moreira, violinist Charlie Bisharat, Afghan vocalist Humayun Khan (harmonium), Jeff Elliot (trumpet), Randy Tico (bass), and Dave Bryant (drums, percussion).
"I love the hybrid quality of World Music and how it allows for cross-cultural communication and exchange. The Spanish guitar is a true manifestation of the commingling of cultures with its ties to the Arabic oud, the Persian tar, even the Indian sitar, so drawing on those connections seems natural to me," Rollins explains his new album. "We took a far-ranging musical journey with the players on Espirito. Near the end (of the record), we slide into the ether. The notes slow down and evaporate into silence, a prayerful conclusion to the album, a moment of thankfulness for the alchemy that took place between the musicians."
On Rumba del Sol Lawson Rollins and Charlie Bisharat fight a strong Flamenco battle. I will never find out who is playing the notes quicker, anyway really impressing. Moonlight Samba presents a modest attitude and let the lovely melody flow. Flora Purim and Flora's daughter Diana Booker refine the song with breathed words, although Lawson's powerful acoustic guitar takes the lead.
With great elegance Lawson Rollins approach the Cuban center of Latin music with Havana Heat. Shahin Shahida adds a special accent with his slide guitar. Also excellent the horn arrangement of Jeff Elliot (trumpet), Hicham El Anmari and Justin Claveria (saxophone) in the style of a Mexican Mariachi band. Café La Martinique stays in the Caribbean area. Drink a Latte Macchiato and enjoy the café house music.
Some thousands kilometers to south we arrived in Rio. Return To Rio featuring Flora Purim puts us in the right mood for Carnival. Blue Mountain Bolero is a seldom combination of violin, slide guitar, electric guitar and acoustic guitar. Cowboy romantic with a Latin flavor.
This album not only offers musical artistry but also beautiful melodies like Santa Lucia Waltz. This time Charlie Bisharat adds to his bow play a piccicato layer. My personal favorite is the title song Espirito sparkling so much joy and happiness. I want to go to Rio.
Cape Town is a pulsing city in South Africa. Cape Town Sky is Lawson Rollins personal view. The music is though more a mirror of Madrid. Footprints is a further musical suggestion for a better and uplifting mood. The album is finished with The Caravan Trilogy (Migration, Shadowland and Into The Light) a passage through the world assimilating influences of foreign countries like India, The Middle East and Spain.
Lawson Rollins's sophomore album Espririto is a special treat of his major art of love. A feast of classical acoustic guitar and world music full of picturesque facets.




Album Information

Title: Espirito
Artist: Lawson Rollins
Year: 2010
Length: 1:06:42
Genre: General World
Label: Infinita Records


Tracks:

01 Rumba del Sol [4:34]
02 Moonlight Samba [5:39]
03 Havanna Heat [4:17]
04 Café La Martinique [6:10]
05 Return To Rio [4:51]
06 Blue Mountain Bolero [4:38]
07 Santa Lucia Waltz [4:33]
08 Espirito [5:45]
09 Cape Town Sky [6:05]
10 Footprints [2:29]

The Caravan Trilogy:

11 Migration [6:46]
12 Shadowland [6:35]
13 Into The Light [4:21]