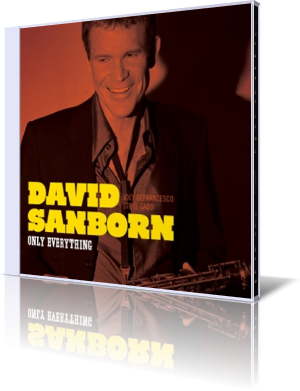 Davd Sanborn is one of the most respected sax players worldwide. To be the most known or the most influential sax player, is not the role David rely on. Quite the reverse, with his new album Only Everything he pays tribute to the great singer Ray Charles.
"If anyone would ask me what Ray—or Ray's musicians—meant to me, my answer might be, only everything," says David. "As a concept, Only Everything, is about gratitude. I'm grateful not only for the musical life I've been able to live, but the original sources of inspiration that continue to inform and excite me fifty years after encountering them." Ray Charles was David's inspiration and muse as he comments in his further statement.
Only Everything is scheduled for release on Decca, on January 26, 2010. Joey Defrancesco on Hammond B3 organ is the keystone on David album. "For my money, Joey is the ruling monarch of the Hammond B3. His mastery of the instrument is complete. But more than a technically remarkable player, Joey has a feeling that's unparalleled. No one grooves harder, yet no one relaxes deeper," David states.
Third player on board is drummer legend Steve Gadd. "A remarkable drummer who plays in service of the music. He colors his drum tones with subtlety, pushing us forward even as he lays back," David enthuses. Guest vocalists are Joss Stone (Let the Good Times Roll) and James Taylor (Hallelujah I Love Her So).
Provided with this information we start the album review with The Peeper, David's homage to Hank Crawford, who composed this song for his album From The Heart (1962). In the style of Duke Ellington's swing David takes the torch from Hank with great respect for the original version. The difference makes Joey Defrancesco, who shines on his classic Hammond B3 and conjures the retro aspect of the '60's.
The title song Only Everything is dedicated to David's first grandchild Genevieve. A slow tune in the tradition of the Blues. "I'm blues-based. I believe it was Mose Allison who said there are two kinds of songs–blues and everything else. For me, blues-based music is, once again, only everything." You wouldn't here a discrepancy to the tunes of Lockjaw Davis and Gene Ammons.
David "Fathead" Newman was another sax player, who played in Ray Charles' band during two periods. On his song Hard Times from the album Fathead: Ray Charles Presents David Newman (1958) performed Ray Charles the piano. David chose this Bebop piece because it reminds him of his youth, when he heard the song in a jukebox.

Joss Stone could be a female counterpart of Ray Charles. Her interpretation of Let The Good Times Roll is outstanding and certainly a highlight of this album. "Joss is a young woman with an old soul," says David. "She's a force of nature who understands the primal power of soul music."
The blues song Baby Won't You Please Come Home was written by Charles Warfield and Clarence Williams in 1919. Often covered Ray Charles' version (1952) and Miles Davis' rendition from his album Seven Steps to Heaven (1963) deeply impressed David Sanborn and initiated his performance in the original style.
You've Changed is a very popular song written by Bill Carey and Carl Fischer in 1941. One of the numerous vocalists who interpreted this song was Jimmy Scott on his album Can't We Begin Again (1975). "He doesn't play the sax," Scott once said about Sanborn, "He sings through the sax. Me and David, man, we relate to each other as singers." You understand this comment, when you listen to David's interpretation. He lives through every note of this song.
Ray Charles' Hallelujah I Love Her So (1956) was often covered, recently by Maceo Parker on his album Root & Grooves. Sanborn's version features famous vocalist James Taylor, about whom Miles Davis once said "He sings like he's blind." James Taylor performs the song with his own relaxed sovereignty and supreme ease.
On the travel to the music of the past, David Sanborn re-discovered Blues In The Night, a song by composer Harold Arlen and writer Johnny Mercer (1941) following the path of Ray Charles. Arthur Schwartz titled that song as "probably the greatest blues song ever written." Just irresistible for a saxophonist like David Sanborn, who is absolutely smoking the song.
Jazz aficionados will appreciate Dave Sanborn's authentic pure jazz style bringing the golden nucleus of every chosen song to light. He is undisputable the master of sax.




Buy the album in all stores



Album Information

Title: Only Everything
Artist: David Sanborn
Year: 2010
Length: 0:45:53
Genre: General Jazz
Label: Decca / Universal Music


Tracks:

01 The Peeper [3:43]
02 Only Everything (For Genevieve) [8:03]
03 Hard Times [5:03]
04 Let The Good Times Roll [3:05]
05 Baby Won't You Please Come Home [8:03]
06 You've Changed [6:04]
07 Hallelujah, I Love Her So [3:58]
08 Blues In The Night [7:54]


Further reviews: