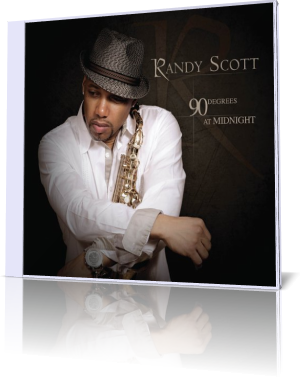 Director of Music for the Southfield, MI, musician, record producer and composer Randy Scott is well known in the music scene of Detroit, maintaining his own studio. He recorded or performed with Michael Powell, J. Moss & Paul Allen, Hiroshima, Nancy Wilson, Grover Washington, Jr., Fred Hammond, The Clark Sisters, Rance Allen, Dietrich Haddon, Men of Standard, Kirk Franklin, Norman Brown, Kirk Whalum, Bob James, Marion Meadows, Tim Bowman and many other artists especially of the smooth jazz scene.
He established his solo career with the albums Randy Scott (1994), Future (1999), Words Unspoken (2002), Breathe (2007), and this year 90 Degrees at Midnight. Randy is an anointed and gifted multi-instrumentalist, but his main instrument is the sax. On his new album he is supported by the Otis brothers (drums), Terrance Palmer, Al Turner (bass), Kris Johnson (trumpet, flugelhorn), Edward Gooch, Ron Kischuk (trombone), Tim Bowman, Darryl Dixon (guitar) and many more.
Randy Scott starts his album in medias res with 90 Degrees At Midnight, vibrant, dynamic and energetic this song immediately takes you to the dance floor. Disco/R&B group A Taste of Honey wrote music history with their hit Boogie Oogie Oogie in 1978. Randy dives deep into the disco scene with his creative rendition.
The Latin tinged song Sunsets features Darryl Dixon on fiery acoustic guitar, but the real summoner is saxophonist Scott with an almost classical entertainment. Build on an infectious rhythm the fast paced My Southern Belle instantly jams. A piece dedicated for live performance.
Some will remember Steve Winwood's fantastic chart topper While You See A Chance presenting an excessive synthesizer solo. On the slow-tempo Urban jazz piece Lady musical director and keyboardist Demetrius "Krayon" Nabors performs the same synthesizer, whose sound is still immaculate and contemporary after all these time. With full blow Randy walks on the Woodward Avenue. The seductive ballade Touch is appealing the female audience. Terrance Palmer perfectly accompanies sax charmer Randy on piccolo bass. Pure romance in notes.
Everything Is Everything is another tune, Randy co-wrote with Krayon. Remarkable Randy's intense horn arrangement. Tim Bowman shows up with a brilliant guitar solo. With amazing tenderness Randy Scott performs 7 Kisses. With the soulful song Just What I Prayed For Scott reaches hand to the Gospel audience.
90 Degrees At Midnight is Randy Scott's debut on the Trippin N Rhythm label. With such an emotional package everything speaks for a successful start.