| | |
| --- | --- |
| Archive | |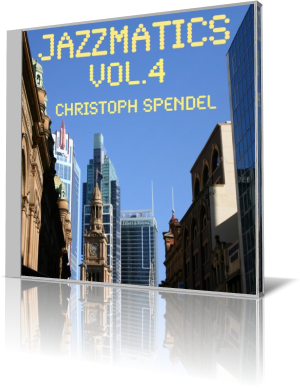 Jazz professor, multi-instrumentalist, composer, producer Christoph Spendel has a great impact on the German jazz scene. With a plethora of released albums he showcases his multifaceted artistry in jazz, Latin jazz, smooth jazz, classic, lounge, chill out and many more genres.
In the chill out section he already released among other albums the series Jazzmatics Vol. 1 (2012), Jazzmatics - Upbeat (2012), Jazzmatics - Chill Out Vol. 1, Jazzmatics - Chill Out Vol. 2 (2012), Jazzmatics - Deep Down Ibiza (2012), Jazzmatics - City At Dark (2012) and this year Jazzmatics New York Sessions Vol.2, Jazzmatics Vol. 3 and Jazzmatics Vol. 4. All songs are composed and performed by Christoph Spendel and available as downloads only.
This volcanic outburst of creative energy demands more intensive consideration. The title of the starting tune Jamiro Jam is derived from the famous British funk and acid jazz band Jamiroquai. The powerful tune grasps playfully various elements of keyboard sounds like Rhodes, Hohner clavinet, synth strings and more in combination with drums and percussion driving the melody to the final summit.
Respectable are the lengths of the tracks between six and nearly eight minutes and the fact that they are showing dynamic growth without setbacks. Go The Nice Way chooses vibraphone, sax, flute, trumpet and bongo as changing lead instruments based on a kicking acid jazz flavor. In the background a Hammond B3 bursts through all the registers. In between sparkles a sax on solo improvisation. Really, there is so much to discover.
Tampa Bay is known as the world's groovin' smooth jazz destination. Spendel however brings essentials of acid jazz in the foreground with hard snare beats, scratching and this and that from old school keyboard sounds, some will remember from the time of Roland and Kawai keyboards. As bridge a great Hammond B3 solo, then back to the first theme with finesse. With Transatlantic the maestro spins a network of sound patches as fundament for solos of ecstatic flute and electric piano.
Morning Swing shines with an impressive horn arrangement, precise melody alignment on piano and a hip shuffle beat. In the time of commercial Black Friday movements is a Busy Friday something usual. Spendel reduces this title to an ultra cool acid jazz motif before he breaks it up with some sax and falls back to that funk-fueled hypnotic audio pendulum. The New Tradition searches a complete other approach. Associations of Nile Rodgers and Eric Burden's War are not intended and are more based on my musical heritage. The tune gets a Latin twist with splashes of Salsa. Again and again the untamed will for improvisation breaks through.
Cold Carnival seems to be a contradiction in itself. The world has long become the musicians' source for all sorts of musical set pieces, enabling them to experiment with and develop new themes. Spendel is almost a master in throwing our musical memory into pure despair. I drop the towel and enjoy his new opus. His performance on piano and organ is beyond breathtaking. Something like Ronny Jordan meets Keith Emerson. An outbreak of human ingenuity.
Jazz brushes, acoustic bass and piano then organ. Backstreet Street sounds like something of George Gershwin's cultural legacy. Slowly and with great relish Spendel builds up the tension without letting us go. Sleeping Energy relies on a repetitive theme, which is counterpointed by the piano and synth. The piano lightens up the theme and makes it palatable.
Jazzmatics Vol. 4 is my personal entry into Christoph Spendel's new sound category of modern art. A high addictive album with a spectacular audible stimulus for all brain oriented listeners.




Buy the album in all stores

Album Information

Title: Jazzmatics Vol. 4
Artist: Christoph Spendel
Year: 2016
Genre: Lounge
Label: CSP


Tracks:
01. Jamiro Jam [7:52]
02. Go The Nice Way [7:12]
03. Tampa Bay [7:14]
04. Transatlantic [6:31]
05. Morning Swing [6:51]
06. Busy Friday [7:12]
07. The New Tradition [7:16]
08. Cold Carnival [6:14]
09. Backstreet Song [7:51]
10. Sleeping Energy [6:44]



Further reviews:


New York Groove

Landscapes (with Lenny Mac Dowell)