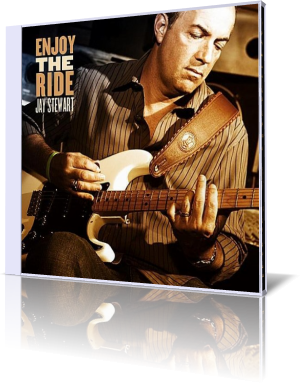 When a judge takes off his robe, one expects that he spends his spare time to visit legal seminars or doing other academic work. In the special case of Georgia Superior Court Judge Jay Stewart we experience a little sensation. Jay has realized his long cherished childhood dream and released his debut album Enjoy The Ride.
Produced by Grammy winning composer, producer and keyboardist Jason Miles this album features performances by session greats bassist Neil Jason, drummer Brian Dunne as well as renowned jazz artists saxophonist David Mann, trumpeters Barry Danielian and Cindy Bradley.

"I can't say that my music and being in the realm of law are completely separate worlds," Stewart says. "I am a musician and I cannot turn it on and off. Now that I've completed my first project, I want to continue to work with great players and make music that moves people. I want to make music that offers some relief to people. I want to play venues where people can get excited about these songs and I can invite them to chill out, let loose and Enjoy The Ride."

On Jason Miles' fusion jazz piece Living The Life Jay showcases his guitar skills, but completely integrates in the band performance. Trumpet maid Cindy Bradley underlines anew her outstanding talent, we could recently observed on her impressing album Unscripted.
When Jason Miles jams on the Hammond B3, it's a great invitation for guitar player Jay to join the flow of the swaying The Light At The End Of The Tunnel. Most tracks were recorded in one or two takes and the vibe is significantly listenable. Can't Fight Love features blues rocker Mike Mattison, frontman of the Derek Trucks Band and member of the Tedeschi Trucks Band. Jay's guitar performance perfectly fits to Mike's vocal interpretation revealing his second musical love.
This becomes even clearer with the song I'M A Man, I still connect with the Spencer Davis Group. The original recording was a fast, Hammond organ-driven blues rock track. Well, Chicago Transit Authority's version was a blast. Thanks to Jay for his wonderful reminder.
Jay's outstanding talent as composer and guitarist shines on Enjoy The Ride. A blissful song with a captivating melody. 4 Tee And Dupree, Jason Miles' tribute to late masterful musicians Richard Tee and Cornell Dupree, presents a hooking duet between Jason on organ and Jay on guitar. Soothe My Soul, another magic composition of Stewart, shows more of his breathtaking guitar technique. His phrasing reminds me of US-born blues and folk guitarist Leo Kottke.
Blowing Smoke grows after some bars to a veritable session. With Barry Danielian's brilliant horn arrangement and Josh Dion's impressive vocals the old Mother Earth song Blues For The Road turns into a delightful groove. Jay finalizes his multifaceted album with the solo guitar piece written for his wife Teresa Just For You. Jay counts Pete Huttlinger, Doyle Dykes and Chet Atkins to his influences, but his style is charming like Cat Stevens' melodies.
Jay Stewart has created with great passion and commitment Enjoy The Ride. The songs are not overly produced and make their interaction with subtle elegance. So how will affect the surely expected success of his upcoming album his future life?