| | |
| --- | --- |
| Archive | |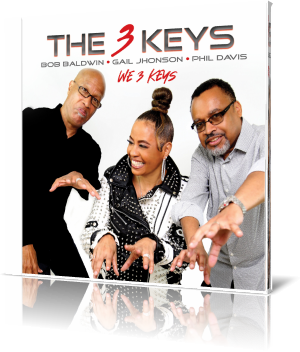 That three musicians form a group is not unusual. Rarer, however, is that these 3 musicians are all keyboardists. The 3 Keys are Bob Baldwin, Gail Jhonson and Phil Davis.
As is so often the case, they met at smooth jazz festivals. Where the idea matured to join forces as a group. Additional support for the trio came from musicians Tamina Khyrah and Joi Johnson (vocals), Andrew Ford (bass), Justin Young ( keyboards, drum programming, bass synth), Jacori "Tay" Robinson (drums) and Dennis Johnson (NY Record Scratches).
The compositions were penned by the trio, with one cover also making it onto the album. The album opens with That Beat which easily reveals influences of well-known pianists like Jeff Lorber, George Duke or Herbie Hancock. Nevertheless, you can also recognize Bob and Gail's idiosyncrasies if you are somewhat familiar with their music.
On Piano Bar, Gail unites her ideas with bassist Andrew Ford to create an accessible ear candy. Into The New is Phil Davis' own contribution to the collective oeuvre. This is followed by his creation Dreaming Of A Better Place, in which he superimposes different layers.
Work It Out was dedicated by Bob and Gail Bernard Wright, an American funk and jazz keyboardist and singer, who died to early in 2022. Bob celebrates on Gimme the Keys that distinctive drum programming and fine keyboard music are not mutually exclusive.
With a brief recap of The Beat, Rhythm Speak follows. The musical closeness of Gail's composition to Bob's music is amazing.
Brazilian composer Ivan Lins created numerous compositions in Brazilian popular music as well as in smooth jazz. Camalećo with Grover Washington is one of the more famous songs, which was also released on the album Love Affair: The Music Of Ivan Lins. The trio honors this great musical personality with their cover.
Justin Young is commonly known to us as a saxophonist. On Summerdance, a collaboration with Gail, he handles keyboards, drum programming and bass synth. With Something Nice, Bob and Gail erect a tribute to George Duke, who was also a great master of flattering tones on the keyboard. The album closes with a radio version of That Beat.
We 3 Keys appears as a homogeneous sound structure, since the three protagonists of this album do not act stylistically far from each other at all. Those who are followers of the individual artists will find in this album a fruitful addition to their collection.




Buy the album in all stores

Album Information

Title: We 3 Keys
Artist: The 3 Keys
Year: 2023
Genre: Smooth Jazz
Length: 54:03
Label: Shanachie Entertainment


Tracks:

1) "That Beat" (5:28)
2) "Piano Bar" (4:56)
3) "Into the New" (4:02)
4) "Dreaming About a Better Place" (4:45)
5) "Work It Out" (5:26)
6) "Gimme the Keys" (6:27)
7) "That Beat - Interlude" (0:49)
8) "Rhythm Speak" (3:01)
9) "Camalećo" (6:19)
10) "Summerdance" (3:27)
11) "Something Nice" (5:15)
12) "That Beat (radio version)" (4:04)