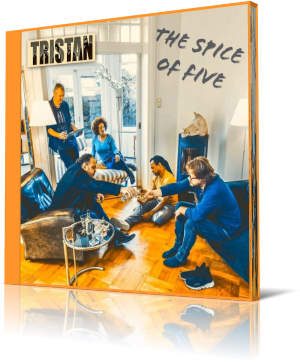 The Dutch formation Tristan consists of the band members Evelyn Kallansee (vocals), Guy Nikkels (guitars), Coen Molenaar (keyboards), Sebastian Cornelissen (drums) and Frans Vollink (bass). Their debut album Full Power (2014) features US soul singer Heston, UK saxophone maestro Nigel Hitchcock and legendary American trumpeter Randy Brecker.
Their sophomore album 2nd Phase followed in 2015. Further albums are Lifestyle (2016) and a Live in Concert album (2017). Their new album The Spice Of Five will be released on April 5, 2019. This time the band didn't invite other musicians but relied on their own values. The result was a studio album that is quite close to their live music and fully reflects the character of the band.
Hands Up is the ultimate request to the audience to surrender their sympathy for the inviting sonic sound of the group. Stylistically the band stays closely to formations like Incognito, Brand New Heavies or Shakatak whereby the group seeks its own European approach.
On I Left My Jacket in the Van the group likes to pick up topics from everyday life in order to take them up acoustically in their sense. Coen Molenaar works miracles on the Hammond B3. 1985 is a flashback to a point in time at which the group associates special memories.
Amplify carves out a fresh soundscape into future up in the sky. On Where Do We Go from Here the group expands musical flowers of emotions. The Latin flavored swinging First You Believe allows Coen Molenaar to showcase his prowess on synthesizer.
The uplifting beauty of the melody of Bring It On reminds me of the peak years of the group Swing Out Sister. Neon Girls focuses on the former connection to a dream girl who disappears into higher realms. Don't Skip This is a stylistically breakout from the previous group scheme in the direction of Ian Dury and the Blockheads, if comparisons are made at all in this area.
Night Train picks up onomatopoeically the dynamics of the train to transform them into a jazz fusion-like movement. Down Town is a further example of singer Evelyn Kallansee to dominate the theme with her pristine voice and articulation. The Band never seems to try to weave instrumental music into their repertoire, although the potential is absolutely there. Yes and then comes the last piece Travel and it turns out to be pure instrumental music at its finest.
Tristan's The Spice Of Five is vocal music at the highest level. If you love the voice of Evelyn Kallansee and she has all the prerequisites, there is a clear purchase decision for this album.





Buy the album in all stores

Album Information

Title: The Spice Of Five
Artist: Tristan
Year: 2019
Genre: Smooth Jazz
Label: Isolde Records


Tracks:

1) Hands Up (3:59)
2) I Left My Jacket in the Van (3:29)
3) 1985 3:14)
4) Amplify (4:56)
5) Where Do We Go from Here (6:13)
6) First You Believe (4:54)
7) Bring It On (3:46)
8) Neon Girls (3:59)
9) Don't Skip This (3:29)
10) Night Train (3:06)
11) Down Town (3:44)
12) Travel (4:40)