| | |
| --- | --- |
| Archive | |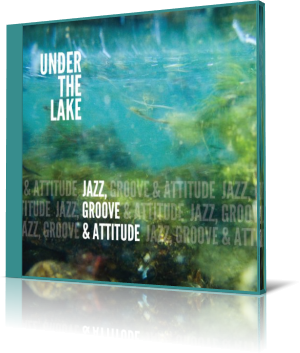 The formation Under The Lake consist of Jayson Tipp (keyboards), David Evans (tenor sax), John Moak (trombone) Brian Foxworth (drums), Evan Mustard (guitar), and Kenny Franklin (bass), furthermore Nat Caranto (alto sax), and Joe Powers (harmonica) as special guests.

Their debut album was Dive In (1993), followed by Up For Air (1995), People Together (2007) and Jazz, Groove & Attitude (2018). All songs were written by Jayson Tipp with the exception of George Is His Name, which he co-wrote with sax player Quintin Gerad W. The Portland, Oregon-based group will release their fourth album on February 23.

The album takes off with Breaking Through, a solid horn enhanced tune with a fine arrangement. Undoubtedly, the strength of the group lies in their live qualities, in which all band members contribute equally to the success of the piece as in the contemporary jazz tune Good Things.

Starting point for November 30th is Jayson Tipp's keyboard sequence from which logically unfolds the structure of composition in inevitable consequence. George is His Name is a tribute to the late keyboard legend George Duke. Evan Mustard's guitar caresses the ears of the audience, the brass section sets an impressive finale.

In the center of Fathers Day, John Moak acts on the trombone, pushing the song powerfully. In the finely tuned interaction of Second Time Around, many nuances of each instrument can be discovered. Ljt presents the unusual but successful combination of Joe Power's harmonica with the brass section of the band. Full of Life is the appropriate title of this contemporary jazz piece with an organic feeling for horns and organ.

I Just Can't Wait gives spacious room to the horn members of the group, but the guitarist isn't neglected too. Vitality that breathes to life into an iconic classic. Rise and Shine offers beside a Chicago like horn arrangement a wild going organ and a sonically sounding guitar. With the final September Groove the band gives each member the opportunity to present his instrument in the forefront always keeping the melody in view.

Jazz, Groove & Attitude is a team work of a typical contemporary jazz group, a highly committed and well interacting formation of prolific musicians.




Buy the album in all stores

Album Information

Title: Jazz, Groove & Attitude
Artist: Under The Lake
Year: 2017
Genre: Smooth Jazz
Label: Mind In Overdrive

Tracks:

1 Breaking Through 4:12
2 Good Things 5:54
3 November 30th 6:49
4 George is His Name 5:31
5 Fathers Day 6:10
6 Second Time Around 5:29
7 Ljt 5:11
8 Full of Life 7:04
9 I Just Can't Wait 5:12
10 Rise and Shine 4:55
11 September Groove 6:17