| | |
| --- | --- |
| Archive | |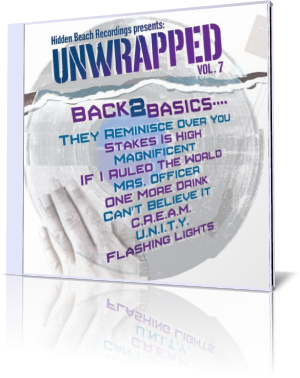 Innovative the concept, adventurous the music. Hidden Beach Recordings presents this year Unwrapped Volume 7 - Back 2 Basics featuring acclaimed producer and songwriter J.R. Hutson! He worked in the past with Zhane, Wayman Tisdale and Boyz II Men. Hutson's production company is called Lifeline Entertainment. Hutson explains: "I really feel like there are a few musicians who have been able to tap into the lifeline, like they've been able to zone out and give us music that no one else has been able to give us."

Hudson is no unknown for Hidden Beach Recordings. The son of an R&B legend father and opera singer mother collaborated with Jill Scott on her album The Real Thing (2007). This album is so popular, that it received amazing 277(!) reviews at Amazon.com. Jill described her work with J.R as like a disease. Hearing his music was very infectious and made the recording absolutely comfortable.
J.R. had also the opportunity to work with Mike Phillips. He produced and recorded on his album Uncommon Denominator (2005) the title and several other songs. And I tell you no secret, that he works again with Mike on his upcoming album MP3. Hutson also produced the bulk of the fourth installment of the label's highly successful Hidden Beach Presents: Unwrapped series, spinning out alternative instrumental versions of hip-hop classics like 21 Questions and Lean Back. If you want to know more about this producer, read this interview or visit his MySpace site.

The album isn't yet pressed, so here some more advanced information. Executive producer of the album is beside J.R. Hutson the owner of Hidden Beach Recordings Steve McKeever, who also wrote the liner notes. Co-executive producers are Mike Phillips and A&R Charles Whitfield.

They Reminisce Over You is a song by Pete Rock and CL Smooth, inspired by the death of their close friend Troy Dixon (1967 - 1990), better known as "Trouble" T. Roy of Heavy D & the Boyz in 1990. J.R. Hutson and Mike Phillips bring the song to a new summit. Superb the supreme trumpet, guitar and bass solos.
De La Soul's Stakes Is High (1996) is enchanted by Jeff Bradshaw's immaculate trombone. This is voluminous and powerful. Magnificent from Rick Ross's third album Deeper Than Rap (2009) is interpreted by Mike Phillips in a mellow and appealing way.
If I Ruled The World is a 1996 hit hip hop single by Nas featuring Lauryn Hill of The Fugees. Imagine smoking weed in the streets without cops harassing! Replace the rap with a slap and the song is growing on you and when Mike Philips sets in to the lovely vocals and the yelling guitar, then you know, Hidden Beach Recordings did it again.
Mrs. Officer from Lil Wayne's album Tha Carter III features Bobby Valentino and Kidd Kidd. Hutson cuts off the vocals and presents a rendition with flute and bass on the lead. Just divine! One More Drink from Ludacris' album Theater of the Mind (2008) samples Michael Jackson's Heaven Can Wait. With trumpet, sax and vocoder all is going better. Thanks to Farnell Newton for the great job on trumpet.
T-Pain's Can't Believe It (2008) finds a new home in contemporary jazz. Unbelievable but true. C.R.E.A.M. is a track from Wu-Tang Clan's highly praised debut album Enter the Wu-Tang (1993). Magnificent the Hammond B3 on the cover. On the original U.N.I.T.Y. Queen Latifah encourages black women to respect themselves and not accept the abuse from men who try to put them down. The rendition cultivates more the attractive melody.
Kanye West's Flashing Lights from his album Graduation (2007) features Detroit R&B singer Dwele. When it comes to jazzy R&B, then listen to the fantastic cover version. Final song is Stakes Is High (Lee Hogan's Revenge) this time with a great trumpet solo.
My respect for J.R. Hutson and the complete team of Hidden Beach Recordings. With great feeling for good melodies these miners found again the best nuggets of Hip Hop and made them to instrumental gold.




Buy the album in all stores

Album Information

Title: Unwrapped Vol. 7 Back2Basics
Artist: Various
Year: 2010
Length: 0:49:14
Genre: General Jazz
Label: Hidden Beach Recordings


Tracks:

01 They Reminisce Over You [4:42]
02 Stakes Is High [5:12]
03 Magnificent [4:33]
04 If I Ruled The World [3:54]
05 Mrs. Officer [5:10]
06 One More Drink [4:04]
07 Can't Believe It [4:11]
08 C.R.E.A.M. [3:30]
09 U.N.I.T.Y. [4:43]
10 Flashing Lights (Bonus Track) [5:36]
11 Stakes Is High (Lee Hogan's Revenge) [3:39]



More reviews: