| | |
| --- | --- |
| Archive | |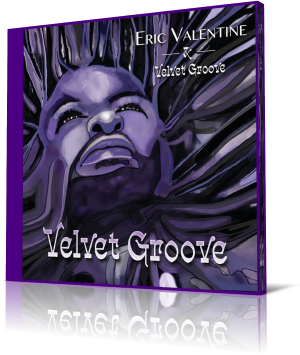 Washington, DC native

multi-instrumentalist Eric Valentine is known by his performance as drummer on smooth jazz albums such as Blue Bolero, Don't Talk, Dance! (Chris Standring), Another Time (Rocco Ventrella), Just Come On In (Nick Colionne), Here To Stay (Darryl Williams), Supersonic (Will Donato), Magical (Jonathan Fritzen), Groovin' (Peter White) and many more.

Eric started his solo career with the album Eric Valentine's Jazz Impressions in 2003. Now he returns with Velvet Groove (2018) on the label Matcha Entertainment LLC. Eric composed all songs, partly in collaboration with other musicians of the album with the exception of Joy Inside My Tears, which is written by Stevie Wonder.

Performing with Eric are Keith McKelley, Richard Elliot, Kirk Whalum; Elan Trotman, Gerald Albright (sax), Adam Hawley, Darrell Crooks; Kay-Ta Matsuno (guitar), Brian Simpson, Allyn Johnson (piano), Benjamin J. Shepherd, Dwayne "Smitty" Smith, Nathaniel Philips, Andre Berry, Darryl Williams (bass), Gary Stanionis, Munyungo Jackson (percussion), Anthony Crawford (keys), Greg Manning (synth, vocals), Rick Braun (trumpet), B. Valentine (lead vocals), and more.

The starting song Back to the Groove is based on a popular shuffle rhythm. The tense melody arch discharges between guitarist Adam Hawley and saxophonist Keith McKelley in colorful tone patterns delicately spiced by Brian Simpson on piano. E. Love (Everlasting Love) impresses with a magic multitude of instrumental and human voices. Velvet Groove shows highlights with as star-studded cast of Rick Braun and Richard Elliot both illuminating the tune with their outstanding performance.

Back in the Day features the golden voice of Eric's wife B. Valentine who Kirk Whalum contrasts with an instrumental counterweight. Mr. Z is a tune tailored for pianist Hans Zermuehlen nicely accompanied by Jamal Brown on flute. That Guy presents Mr. Act Now Or Never in short MR A.N.O.N. who adds a new component to the album with his spoken words. The short episode Velvet Groove Reprise reveals an exquisite drum solo by Valentine himself.

The melodious Mi Sol features guitarist Kay-ta Matsuno on acoustic guitar. Unabashed romanticism from the finest. 'Tis So Sweet is dedicated to the late bass player Wayman Tisdale, who left a big gap. Bassist Anthony Crawford perfectly matches the sound of his bass guitar and Gerald Albright enhances the emotional intensity on the saxophone.

Joy Inside My Tears is one of the songs from Stevie Wonder's album Songs in the Key of Life (1976) who did not find their way into the charts as singles. Indisputable is the great influence this album has had and has on the musical development of many artists. This also Eric Valentine honors with a wonderful and soulful interpretation. Passionate singer André de Priest can be called just a stroke of luck.

Sixth Sense invites the listener to a seldom meeting of flute (Jamal Brown) and cello (Nicole Pinnell) in an awe-inspiring question and answer dialogue. After a short reprise of Joy Inside My Tears the album receives a worthy final with Reflections by saxophonist Kirk Whalum, pianist Wayne Lindsey and Eric Valentine on keys.

Eric Valentine's album Velvet Groove is certainly one of the years best recordings. Velvet Groove is the music Eric Valentine stands for and is representative for his personal life experiences. His music understands the simple joy of beings.




Buy the album in all stores

Album Information

Title: Velvet Groove
Artist: Eric Valentine & Velvet Groove
Year: 2018
Genre: Smooth Jazz
Label: Matcha Entertainment LLC.

Tracks:

1 Back to the Groove
2 E. Love (Everlasting Love)
3 Velvet Groove
4 Back in the Day
5 Mr. Z
6 That Guy
7 Velvet Groove Reprise
8 Mi Sol
9 'Tis So Sweet (for Wayman Tisdale)
10 Joy Inside My Tears
11 Sixth Sense
12 Joy Inside My Tears (Reprise)
13 Reflections (Back in the Day Reprise)