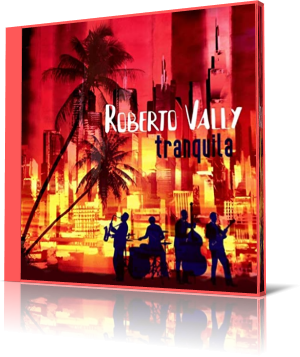 L.A. based bass player Roberto Vally is famous in the music scene like a colorful dog. The list of musicians he played with is endless and reads like a who's who of the jazz, smooth jazz and R&B scene.
Relatively late he started his solo career with the album Boom Boom Boom (2013), followed by Pure Lines (2017). Tranquila (2020) is his third project. Roberto performs on his new album bass and programming.
He is supported by Jeff Carruthers (keyboards, guitars, programming), Michiyo Kitagawa, Andrew Neu (sax), Tom Schuman (keyboards, synths, piano, Moog), Carlyle Barriteau (guitars), Saskia Mount Zion, Daniela Soledade, Caro Pierotto (vocals), Ron King, Rob Zinn, Chris Todesco (trumpet), David Benoit (piano), Tim Redfield (additional sound design), Peter White (acoustic guitar, piano), and Rob Mullins (piano).
When three musical geniuses come together to create magic like Mister Beast, then you can expect contemporary jazz at its best. Vally's dynamic bass and rhythm drive the keyboardists Tom Schuman and Jeff Caruthers to breathtaking top performances.
Good News Natty meanders in a deep growling Reggaeton song featuring singer Saskia Mount Zion and Ron King on muted trumpet, who sounds like the resurrected jazz legend Miles Davis.
And Then She Said… presents distinguished doyen David Benoit on piano who reaches into the keys in his well-known way. A Minha Dor is a Portuguese Samba song featuring vocalist Daniela Soledade and Andrew Neu on flute. Fans of the Brazilian jazz singer Flora Purim will love this inspirational and soulful ballad. Daniela Soledade is a young musician from Rio de Janeiro and the Bossa Nova runs deep in her veins, her father and her grandfather were entirely involved in the Brazilian music scene.
Blue Horizons features Peter White's guitar artistry in a supersonic multi-colored atmospheric flow. Yasashiku means in the Japanese language "gentle". Michiyo Kitagawa celebrates her sax with great sweetness and Jeff Carruthers ensnares the melody with caressing tones on the acoustic guitar.
The Latin tinged Rush Hour unites trumpeter Rob Zinn, pianist Rob Mullins, saxophonist Andrew Neu, bassist Roberto Vally and keyboardist Jeff Carruthers to a tour de virtuosity. Na Sedução (In The Seduction) features the attractive L.A. based singer Caro Pierotto, who still has a vain strong relationship with her Brazilian homeland. Surprisingly you don't listen to a Samba but to a Reggae emphasized song.
The shuffling Down for the Third Time intertwines Roberto's wonderful voice with Chris Todesco's crystal clear trumpet. The vast majority of bassists put their instrument at the center of their solo albums. Roberto, on the other hand, keeps his distance on this album and gives his fellow players plenty of room to unfold, which is to the benefit of the album as a whole. Tranquila which concludes the album, is an exception. There is nothing like the deep sonorous sound of an upright bass. With Tom Schuman and Jeff Carruthers Roberto creates a multi-layered sound structure reminiscent of the legendary albums of Pat Metheny and Lyle Mays.
Roberto Vally's album Tranquila is one of those rare albums that seduce you to play it several times. We owe this to the extraordinary stylistic variety, the exquisite interplay of all musicians at the highest artistic level and at the same time maximum entertainment value.