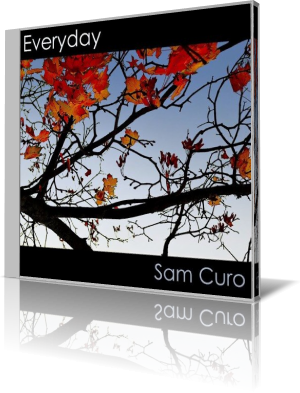 Multi-instrumentalist
,
singer, songwriter, that are the professions of South Los Angeles native Sam Curo. His seasoned baritone voice recalls the singer and front man Mark King from the group Level 42.
In 2014 he released his album
Everyday
. All songs are written and produced by Sam Curo and Albert Lucero. Guest musicians are Danny Clay Williams on bass and George Quirin on guitar.
The title songs offers a wide harmonic approach. A fundamental basic for Sam Curo to express his vocal virtuosity and intensity. The muted trumpet underlines this melancholic impression. Fundamental topic of his songs like
Then There Was You
is the dual relationship with all its implications and conflicts. Vocal intonation, resonance and phrasings are amazingly versatile and adapted to the mood.
We Are All Brothers
attunes to the problems of different origins and races and gives a clear answer. The continuous Latin American rhythm contrasts in its lightness to the seriousness of the issue. More credibly Sam conveys his emotions when love is the topic like on
How Could You Walk Away
.
Sam does not remain in downheartedness but changes the atmosphere on
There Was A Girl
. Auto tune is nowadays often used as a stylistic device. Listening to a good singer like Curo artificial sound modulation leaves an unpleasant impression of unnecessary seeking for improvement. Curo is blessed by a God given gift and should be proud about it.
That said
What Is Love
sounds consistent and coherent. His pure voice is his strength. With his distinctive voice remains even emotional redundancy like on
Forbidden Love
negligible.
You've Been Gone
insists on the melancholy of the forsaken.
An album like
Everyday
is too short to describe a singer like Sam Curo in all his potential facets. His voice allows him certainly a wider emotional range. To convert his inexhaustive imaginativeness into pictures and sounds is the great challenge, he has to meet.



Buy the album in all stores




Album Information



Title: Everyday
Artist: Sam Curo
Year: 2014
Length: 0:33:49
Genre: Smooth Jazz


Tracks:
01 Everyday [4:11]
02 Then There Was You [4:14]
03 We Are All Brothers [4:49]
04 How Could You Walk Away [4:27]
05 There Was A Girl [4:19]
06 What Is Love [4:24]
07 Forbidden Love [4:10]
08 Since You've Been Gone [3:13]