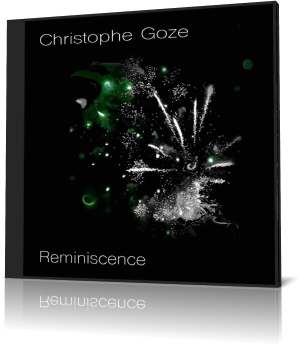 French born Barcelona resident and guitarist Christophe Goze considers himself a cosmopolitan. His changing residence in eight different countries has also influenced his musical style.
His album
Reminiscence
was released in 2018. It partly contains songs that were also released on other albums or collections. The attentive reader will have noticed the addition "Revised Version" behind the individual titles.
Christophe comments: "For example, if you listen to the original Cielo (from the Love EP) you will notice that it does not have the harmonica (accordina, to be exact) lead parts. Also the drums have been modified a bit. The idea was to use zero samples, and give the tracks a more "acoustic" feel. Real drums were added and I shared all tracks leads with my friend accordina player Frederic Langlais. That's why I like to say that it is on that album that I really started to perform as a jazz musician and defined the "jazzy Lounge" sound I now like to produce."
The album starts with
Waiting For You
, a song full of melancholy and atmosphere, in which Christophe puts himself in the situation of a lover who waits longingly for his beloved. Frederic Langlais sensitively enters into this mood with his accordina.
A New Beginning
can be applied to many different things. Be it a change of residence, a professional reorientation, a change in a relationship. Christophe perhaps means it in a stylistic sense. Ingenious is the rich ambiance in which he puts the listener with the help of his keyboard sound, the guitar and co-musician Langlais.
Jardin d'hivers
means winter garden. With his acoustic guitar, Christophe carefully weaves a fine tapestry of sound, with Frederic pulling in his strings.
The word
Cielo
comes from Spanish. It means heaven but also treasure in the sense of a term of endearment. Amazing what our two protagonists conjure up on their instruments and words can hardly describe.
The atmospheric mood of the previous tracks continues on
I Will Always Love You
. Is there nothing sadder when you have lost your beloved and all you have left are the memories? On
Memory Of You
, Christophe and Frederic internalize that pain of the soul in musical form.
In French,
Mourir d'Aimer
describes the pain of love. Christophe makes greater use of the North African influence on this song, both instrumentally and stylistically. Frederic weaves in some South American tango.
The album closes with
Some Day I Will
, which is epic in scale at over 7 minutes. The song gives ample opportunity to dream. Christophe makes extensive use of the reverberation effect to playfully approach the main theme from different angles.
Reminiscence
is a collection of exquisite pieces from Christophe Goze's fund of musical ideas, which has now grown to a considerable size. The moods are finely tuned to one another, resulting in an overall picture of rich emotionality.




Album Information

Title: Reminiscence
Artist: Christophe Goze
Year: 2018
Genre: Smooth Jazz
Label: Independent


1) "Waiting For You - Revised version" (5:27)
2) "A New Beginning - Revised version" (4:57)
3) "Jardin d'hivers - Revised version" (5:01)
4) "Cielo - Revised version" (4:39)
5) "I will always love you - Revised version" (4:08)
6) "Memory of you - Revised version" (3:44)
7) "Mourir d'aimer - Revised version" (4:09)
8) "Some day I will - Revised version" (7:11)