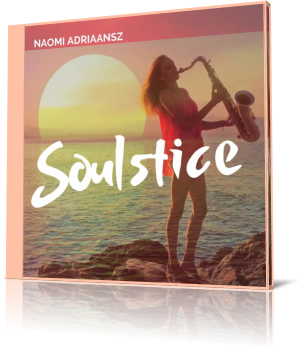 Hailing from Breda, Netherlands saxophonist Naomi Adriaansz has as her great role model the Dutch saxophonist Candy Dulfer, with whom she could already get in contact at a young age.

With harmonica player Tim 'Harmony' Welvaars she founded the duo Team Harmony. Both released Two Souls One Breath (2015). She continued the collaboration with the new formation Amsterdam Connection. Their second project was entitled Isn't She Lovely (2017). A Stevie Wonder cover album, which received high accolades by critics and fans.
In 2019 Naomi started her solo career and released the singles Soul Smile and Bye For Now. Meanwhile she has tied up her songs to her first EP Soulstice, which is available since May 1, 2020.
The songs of this EPs are all composed and co-produced by Naomi. She plays tenor sax, while the album was produced by Frank Pels, who performs Mini Moog and synths.
Based on a funky deep synth bass Naomi develops in her song Soulstice besides the main melody different creative approaches to a groovy overall impression, which strongly approaches the techno scene.
On her second single Bye For Now Frank Pels dives deep into the programmed synths in the style of Pete Townshend, while Naomi starts her explosive escapade. The energetic Tribal Groove is direct, genuine and punchy.
The uplifting Soul Smile is a sparkling firework of synth and sax. On My Way is somehow inspired by Weather Report's Birdland. At least that's what the powerful synth bass says.
Naomi Adriaansz's album Soulstice is without any doubt nonconformist, if you compare it to the usual smooth jazz offerings. This is probably also due to the jazz fusion part of Frank Pels.




Biography

Website


Buy the album in all stores

Album Information

Title: Soulstice
Artist: Naomi Adriaansz
Year: 2020
Genre: Smooth Jazz
Label: Independent


Tracks:

1 Soulstice 4:06
2 Bye for now 4:12
3 Tribal Groove 3:39
4 Soul Smile 4:41
5 On My Way 5:38

Review:

Amsterdam Connection - Isn't She Lovely