George Anderson – Positivity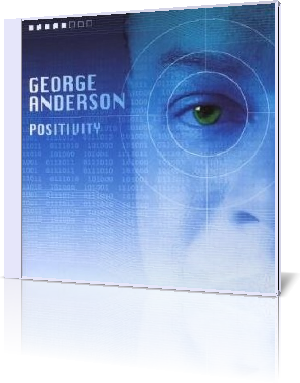 George Anderson is widely known as the bass player of Shakatak. Influenced like many other bass players by legendary Jaco Pastorius his further idols are Stanley Clarke, Marcus Miller, and Jeff Berlin who raised the bar regarding technique. George prefers to play on basses made by John Diggins and Soundtrade basses.
Positivity is George Anderson's first solo project. Somehow a best kept secret George released the album on Secret Records. Anyway the album deserves some limelight. Unlike other albums of bass players is the main emphasis of Positivity not the bass but vocals.
Beside George (basses, additional keys, drum programming and audio manipulations) the liner notes of the CD list as musicians Alan Wormald (guitars), Paul Williams (guitars), Carmine Membrino (keyboards), Mike Paice (sax), GA (virtual sax/flute), Debby Bracknell (vocals), Fil Straughan (lead vocs on Lay Ur Hands On Me). The album was produced, arranged, composed, recorded, mixed and mastered by George. All under control for the maximum of quality.
The starting song Lay Ur Hands On Me sets an enlightening signal of positivity. Fil Straughan fills the song with his warm voice, ranging from Marvin Gay to Luther Vandross. Debby Bracknell is the featured songstress of the easy going What I Gotta Do. Debbie is also guest singer on Shakatak's Afterglow and touring partner on Shakatak's live gigs.
It Aint Over is George's resounding answer to all sceptics. Salsa meets horns, meets organ growing to an explosive amalgam of dancing mood. As longtime member of Shakatak George Anderson stays under the spell bounding influence of the group's music. Beauty Inner Smile is very similar to Shak's style. Perfect harmony and arrangement.
On the superb ballade All 4 U Debby Bracknell sings about a lost love and the hope for a reunion. Sometimes you first realize the worth of a love, when the love is gone. Debby is not only a sensual singer but also an excellent writing talent.
Cool Operator is not a sequel to Smooth Operator but a critical song about the insanity of striving for richness and the corruption of politicians. Correct the system before you will loose the future. Featured rapper is MC Lean adding some dirty gritty to the song.
Run 2 Me and I Want U are further collaborations between George Anderson and Debby Bracknell. A love ballade with great emotion followed by a more up-tempo version about the same theme. Herbie is a tour de force through everything good smooth jazz can offer. Especially sax and piano performance are just impressing.
Great vocal arrangement are Debby Bracknell's signature on Wonder Of U. Mike Paice adds a supreme sax solo. The instrumental Moments closes Anderson's debut album. Yes, we hear it loud and clear, George Anderson the multi-instrumentalist created this chilling groove.
We already know that this guy is an excellent bassist. With his solo project Positivity he stands out on his own feet as composer and arranger. What can we await next, George?




Buy the album at


Album Information

Title: Positivity
Artist: George Anderson
Year: 2009
Length: 0:50:47
Genre: Smooth Jazz
Label: Maxwood Music


Tracks:

01 Lay Ur Hands On Me [4:19]
02 What I Gotta Do [4:32]
03 It Aint Over [4:31]
04 Beauty Inner Smile [5:13]
05 All 4 U [3:29]
06 Cool Operator [5:09]
07 Run 2 Me [6:01]
08 I Want U [3:13]
09 Herbie [5:28]
10 Wonder Of U [4:01]
11 Moments [4:51]