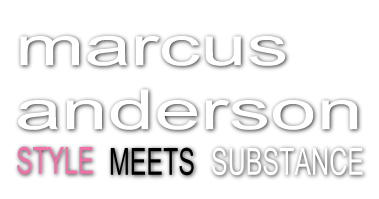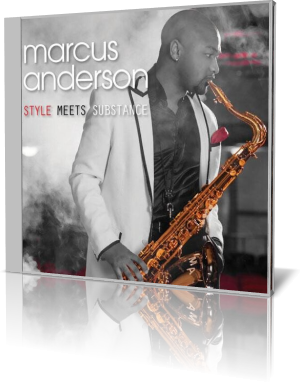 Style Meets Substance is a demanding title full of promise. Can Marcus Anderson fulfill this aroused expectations? The necessary personal and musical requirements he certainly brings along. As one of the saxophonist in Prince's band the New Power Generation he convinced the audience with his performance.
With five albums under his belt he also has the experience of a lengthy solo career. All started with his debut album My Turn in 2005, soon followed by From the Heart (2009), NOW (2011), and "TLC" Tender Loving Christmas (2011).
Anderson has written, performed, arranged and produced all songs of the new album. He is joined by Bertron Curtis and Nicholas Cole (keys), Kenny Leonhard (organ), Demetrice Everett and Calvin Napper (drums), Fitzgerald McGill (guitar), Chris Ellis and AJ Brown (bass), Morris Hayes (synth solo) on selected tracks.
The album starts with the energetic title song Style Meets Substance. The performance of the saxophone is similar to Richard Elliot. The funky Bee Maroon follows seamlessly. Anderson loves to overdub and harmonize his sax performance to get a richer tone. With the romantic You Made My Day he reaches out to the ladies.
With Just For You he tries to beat this impression. The Taste Of Passion showcases an Indian approach with sitar and Tablas mixing into his soprano sax to an Oriental atmosphere. McGill's screaming guitar increases that exotic feeling. With Just Like Me Marcus walks on the sideway of Prince and James Brown. Funky, funky!
Paisley Red is a further brilliant link with the music of Prince and Stevie Wonder (Living For The City). Your Wish Is My Command invites to a cozy dance with your lover. With All About You shows Marcus his skills as a singer. If beautiful harmonies and melody come together like on No Time To Waste, then that is the intersection of Nicolas Cole and Marcus Anderson.
But also as a multi-instrumentalist and composer he is a true genius as he poses with Gotta Move On to the test. With No Worries Marcus looks with great confidence in his musical future. Justifiably! I'm Back is the little candy at the end.
Style Meets Substance is a redeemed promise. Marcus Anderson is one of the leading saxophonists of the scene



Album Information

Title: Style Meets Substance
Artist: Marcus Anderson
Year: 2014
Length: 0:59:04
Genre: General Jazz
Label: MDA Music

Tracks:
01 Intro [0:34]
02 Style Meets Substance [2:56]
03 Bee Maroon [3:30]
04 You Made My Day [4:16]
05 Just For You [5:01]
06 The Taste Of Passion [5:54]
07 Just Like Me [4:06]
08 Paisley Red [4:10]
09 Your Wish Is My Command [6:46]
10 All About You [3:23]
11 No Time To Waste [3:46]
12 Gotta Move On [5:06]
13 No Worries [5:37]
14 Bonus Track Marcus Anderson [3:59]