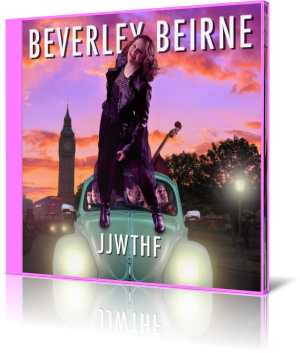 Hailing from Yorkshire jazz singer Beverley Beirne started her solo career with the debut album Seasons Of Love in 2012. Her greatest passion is to take songs from other genres and put her own spin on them. This is the main principle of her sophomore album JJWTHF (2018).
Instead of interpreting jazz standards Beverley chose from a fundus of 90 songs her ultimate mixture of 70ís and 80ís pop songs to give them her very own jazzy varnish.
Her recording team consists of pianist and co-arranger Sam Watts, bassist Flo Moore, drummer/percussionist Ben Brown, saxophonist/flautist Rob Hughes, guest guitarists Romero Lubambo and Dean Brown. Keyboardist Jason Miles produced the album and gave his grace to Waiting for a Man Like You and Deeply Dippy.
Cum on Feel The Noize was originally recorded by British rock band Slade in 1973, later covered by American heavy metal band Quiet Riot in 1983. Beverley transforms this piece into an intimate swinging song, while the new arrangement sounds consistent and not superimposed.
Prince Charming was a hit by Adam and The Ants in 1981. A bass line and handclapping introduce into Beverley's version with a certain 80's savor. Kim Carnesí Bette Davis Eyes is still strongly in our memory as a perennial favorite in Golden Oldies radio. Beverley's unpretentious approach heavily involves her accompanying musicians.
Ghost Town was a song by the British ska band the Specials (1981) with socially critical content. The album's interpretation sounds like a mixture of Big Spender and Cabaret. Raid Said Fred's Deeply Dippy charted in 1992. Jason Miles lets his illuminating Hammond B-3 shine on Beverley's rework.
When Smokey Sings, a song by British band ABC, was a tribute to R&B singer Smokey Robinson in 1987. With nearly seven minutes is this interpretation somehow a presentation of the whole band including several solos. The Latin flavored rendition of Bananarama's Cruel Summer contains a remarkable flute solo by Rob Hughes.
Pop Muzik by M, a project by English musician Robin Scott, was a stunning success in Europe in 1979. Beverley takes the chance to show her talent in scat singing. English band Kajagoogoo ís Too Shy is completely turned upside down in a straight-ahead version. Billy Idol's Hot in the City lives by Billy's spectacular visual personality, the cover developes a vibrant life of its own.
Waiting for a Man Like You, is a consequent gender typical variation of Foreigner's Waiting for a Girl Like You. Girls Just Want To Have Fun finally ends in a gaudy presentation of Rock N' Roll.
Beverley Beirne's concept of transferring Pop hits into jazz songs is nothing new to the vocal jazz genre. The peculiarity of this album is the outstanding realization by exceptionally talented musicians, which also makes it easy for Beverley to carry the inspiring spark to the audience.




Biography

Website


Buy the album in all stores

Album Information

Title: JJWTHF
Artist: Beverley Beirne
Year: 2018
Genre: Jazz
Label: BB Records


Tracks:

1 Come on Feel the Noise 3:28
2 Prince Charming 2:39
3 Bette Davis Eyes 4:09
4 Ghost Town 3:29
5 Deeply Dippy 3:10
6 When Smokey Sings 6:57
7 Cruel Summer 3:04
8 Pop Muzik 4:50
9 Too Shy 2:38
10 Hot in the City 2:57
11 Waiting for a Man Like You 4:55
12 Girls Just Want to Have Fun 2:27