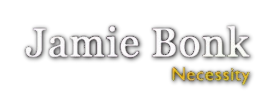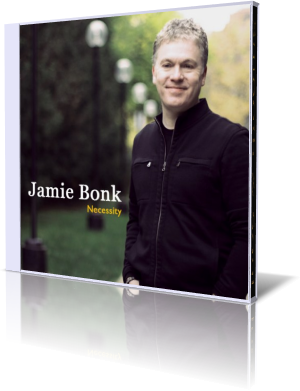 Canadian guitarist Jamie Bonk is a constant distributor to the music world. After his self-titled debut album (1997), followed A Perfect Tomorrow (2000), My World (2004), 5 (2007), St. Joseph Street (2009), Side B (2010) and last year Necessity.
Known by his performance on acoustic guitar he surprises his fan base on his new album as electric guitar player. Jamie was supported by Sonya Mitlewski (keyboards), Henrik Bridger (bass), and Dave Patel (drums).
Jamie expands on the starting Backbone all his guitar skills in a captivating melody. Compare him with Fleetwood Mac and you know his direction. One Foot Forward doubles the effect of melodious attraction. The beauty of fine guitar art shines on I Promise To.
With songs such as Lift Jamie reveals his great talent as song writer. All haunting melodies of this album were composed by this blessed guitarist. Especially in slow songs like From My Soul, Stay Awhile and Mind Your Step unfolds the exquisiteness of Jamie's compositional mastership.
Latest on Start Softly one realizes this is an album for the romantic hours of life. On Embrace Jamie puts the loveliness aside, but ultimately he is captured again by her. Also the subsequent songs like Back To Back, Here Together and One Idea Leads To Another do not change this mood. One or two additional fast tracks would do the album a world of good.
Despite these minor weaknesses Jamie Bonk's album Necessity makes a lasting impression by its pleasurable and intellectually stimulating musical ideas.




Biography

Website


Buy the album in all stores

Album Information

Title: Necessity
Artist: Jamie Bonk
Year: 2012
Length: 0:43:31
Genre: Smooth Jazz
Label: CDBaby

Tracks:

01 Backbone [3:38]
02 One Foot Forward [3:20]
03 I Promise To [3:27]
04 Lift [4:11]
05 From My Soul [4:05]
06 Stay Awhile [3:23]
07 Mind Your Step [3:53]
08 Start Softly [3:22]
09 Embrace [3:21]
10 Back To Back [3:52]
11 Here Together [3:39]
12 One Idea Leads To Another [3:21]


Further reviews:

My World

St. Joseph Street