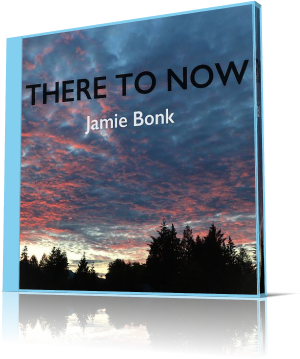 Looking at Jamie's website, I realize how long I have been following his career. After all, There To Now (2022) is already Jamie's seventh full-length album. And he has put a lot of effort into this project.
All music and lyrics are written by Jamie Bonk. Involved in this project are the musicians listed in the credits. Stylistically, his music can be classified as smooth jazz with New Age elements.
The album opens with the melodic song Last Thing First, which features singer Wendy Irvine. The song contains no lyrics, rather Wendy accompanies Jamie's guitar performance with her bel canto.

Hopefully Me presents a love ballad that once again focuses on Wendy. With Here Is, Jamie rises to true strength. His melody shines in its very own power. Anything At All showcases the rustic voice of Ron Scott and gives the song its folky feel.
Bill McBirnie is a Canadian jazz and Latin flautist based in Toronto. His multiple activities are bundled on his website http://www.extremeflute.com/. On Inlet, his flute mastery intertwines with Jamie's virtuosity to create an intense musical braid.
On It Always Will, Ron Scott mesmerizes with a love ballad that gains even more authenticity from the sound of his voice. Pull You Up lets Wendy's wind of freshness pass through the sheet music.
Look Closer once again enraptures with Jamie's brilliant fingering of the acoustic guitar into the realm of instrumental folk. With On The Line, Jamie presents Ron Scott's third vocal work of delight. So Now I Know brings a new sound to the album with Henrik Bridger's bass.
Jamie Bonk's There To Now is not only a new episode in his oeuvre but enriches it with numerous new facets.





Website


Buy the album in all stores

Album Information

Title: There To Now
Artist: Jamie Bonk
Year: 2022
Genre: Smooth Jazz
Label: Bonk Productions


Tracks:

1) "Last Thing First (feat. Wendy Irvine & Bill McBirnie)" (3:44)
2) "Hopefully Me (feat. Wendy Irvine)" (3:53)
3) "Here Is" (5:27)
4) "Anything At All (feat. Ron Scott)" (3:00)
5) "Inlet (feat. Bill McBirnie)" (4:47)
6) "It Always Will (feat. Ron Scott)" (3:53)
7) "Pull You Up (feat. Wendy Irvine)" (3:09)
8) "Look Closer" (3:20)
9) "On The Line (feat. Ron Scott)" (3:10)
10) "So Now I Know (feat. Henrik Bridger)" (3:10)



Credits:

Jamie Bonk - Guitar & Keyboards

Henrik Bridger - Bass

Wendy Irvine - Vocals (1, 2, 7)

Bill McBirnie - Alto Flute & Flute (l, 5)

Dave Patel - Drums

Ron Scott - Vocals (4, 6, 9)