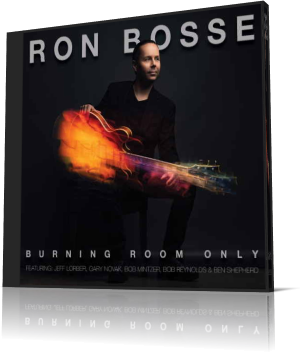 Jazz fusion guitarist Ron Bosse's activities so far extended to anything but recording his own music. He founded the Bosse School of Music, a premier pre-college-level program for contemporary music in Weymouth, Massachusetts. In 2007, he launched Bosse Studios, a world-class audio recording and video production studio that produces content for major brands.
He worked with guitarist Norman Brown on a series of duet performances and instructional videos focused on improvisation, technique, composition and production. His album Burning Room Only is a collaboration with jazz fusion keyboardist Jeff Lorber who has contributed significantly to the shaping of smooth jazz with his style.
Jeff Lorber used his connections in music circles and was able to win an illustrious crowd of studio musicians for the recordings as can be seen from the credits. They share with him the common interface between jazz fusion and smooth jazz. Jeff produced the album as well.
The album opens with the funky Bossman. Ron Bosse succeeded perfectly in offering the same level of virtuosity on his guitar as we are used to from Jeff Lorber and his fellow players. Thus, melody and performance strength seamlessly merge.
The fact that the pieces are from one cast is also noticeable on Power Drive. David Mann not only provides the full sound with his horn arrangements, but also sets his own accents on the saxophone.
Next in line is the piece Strutter, which also easily shows Lorber's signature. Of course, it's Bosse's album and so he creates plenty of opportunities for himself, like on Checkin' In, to shine on guitar. The contact with guitarist Norman Brown has also been good for Ron's agility.
Of course, an album does not live only on virtuosity. So Kiss The Sky brings more harmony and atmosphere to the fore. Rumble Strip, on the other hand, is again an act of pronounced guitar soloing.
Aerodynamic is the study of the motion of air, particularly when affected by a solid object. This effortless gliding through the air is also transferred by Ron to his music and distinguishes the entire album. All further pieces can be classified in this style, which altogether form a homogeneous overall picture.
Ron Bosse's album Burning Room Only can be characterized in three words: Bosse meets Lorber. So if you want to hear an excellent guitarist on a Jeff Lorber album, you should grab this one without hesitation.




Website


Buy the album in all stores

Album Information

Title: Burning Room Only
Artist: Ron Bosse
Year: 2022
Genre: Smooth Jazz
Label: Deep Cat Records


Tracks:

1) "Bossman" (3:42)
2) "Power Drive" (3:48)
3) "Strutter" (3:03)
4) "Checkin' In" (3:33)
5) "Kiss the Sky" (3:36)
6) "Rumble Strip" (4:13)
7) "Aerodynamic" (3:24)
8) "Event Horizon" (3:18)
9) "Flow" (3:16)
10) "DNA" (3:22)
11) "Deep Cat" (3:53)



Credits:


Track #1: Bossman

Produced by: Jeff Lorber

Musicians:

Ron Bosse: Guitar

Jeff Lorber: Keys

MonoNeon: Bass

Gary Novak: Drums

David Mann: Horn Arrangement & Performance

Track #2: Power Drive

Produced by: Jeff Lorber

Musicians:

Ron Bosse: Guitar

Bob Mintzer: Tenor Saxophone

Jeff Lorber: Keys

Ben Shepherd: Bass

Gary Novak: Drums

David Mann: Horn Arrangement & Performance

Track #3: Strutter

Produced by: Jeff Lorber

Musicians:

Ron Bosse: Guitar

Tenor Saxophone: Rick DiMuzio

Jeff Lorber: Keys

Hadrien Feraud: Bass

Gary Novak: Drums

David Mann: Horn Arrangement & Performance

Track #4: Checkiní In

Produced by: Jeff Lorber

Musicians:

Ron Bosse: Guitar

Bob Mintzer: Tenor Saxophone

Jeff Lorber: Keys

Ben Shepherd: Bass

Gary Novak: Drums

David Mann: Horn Arrangement & Performance

Track #5: Kiss the Sky

Produced by: Jeff Lorber

Musicians:

Ron Bosse: Guitar

Jeff Lorber: Keys

Ben Shepherd: Bass

Gary Novak: Drums

David Mann: Horn Arrangement & Performance

Track #6: Rumble Strip

Produced by: Jeff Lorber

Musicians:

Ron Bosse: Guitar

Bob Reynolds: Tenor Saxophone

Jeff Lorber: Keys

Jimmy Haslip: Bass

Gary Novak: Drums

David Mann: Horn Arrangement & Performance

Track #7: Aerodynamic

Produced by: Jeff Lorber

Musicians:

Ron Bosse: Guitar

Jeff Lorber: Keys

Ben Shepherd: Bass

Gary Novak: Drums

David Mann: Horn Arrangement & Performance

Track #8: Event Horizon

Produced by: Jeff Lorber

Musicians:

Ron Bosse: Guitar

Bob Reynolds: Tenor Saxophone

Jeff Lorber: Keys

Ben Shepherd: Bass

Gary Novak: Drums

David Mann: Horn Arrangement & Performance

Track #9: Flow

Produced by: Jeff Lorber

Musicians:

Ron Bosse: Guitar

Bob Mintzer: Tenor Saxophone

Jeff Lorber: Keys

Ben Shepherd: Bass

Gary Novak: Drums

David Mann: Horn Arrangement & Performance

Track #10: DNA

Produced by: Jeff Lorber

Musicians:

Ron Bosse: Guitar

Jeff Lorber: Keys

Ben Shepherd: Bass

Gary Novak: Drums

David Mann: Horn Arrangement & Performance

Track #11: Deep Cat

Produced by: Jeff Lorber

Musicians:

Ron Bosse: Guitar

Bob Mintzer: Tenor Saxophone

Jeff Lorber: Keys

Jimmy Haslip: Bass

Gary Novak: Drums

David Mann: Horn Arrangement & Performance