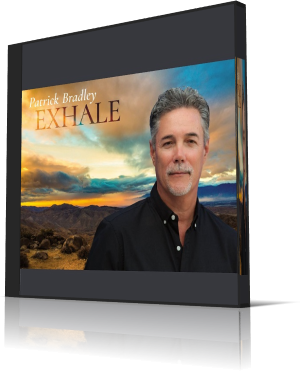 Patrick Bradley has always emphasized exquisite quality in his productions. This is easily recognizable by his albums Come Rain Or Shine (2006), Under The Sun (2011) and Can You Hear Me (2014). Already on his previous recordings were always big names among the studio musicians. This is no different with his new album Exhale (2021). If on his previous albums the main anchor and producer was Jeff Lorber, this time Darren Rahn is clearly at the center of the action.
Patrick understands his new project also as a way of switching off, forgetting the worries of everyday life and recognizing music as a source of comfort and inspiration. He explains: ďThis is a special project and Iím hoping people get that when they listen to it because itís almost like thereís some of my DNA in there. Weíve all had a hard year Ė whether itís COVID fatigue, political fatigue or whatever. Iím hoping people will listen to the album and it will give them some sort of release, a sense of hope, and that somehow itís inspirational.Ē

With the opener Completely Yours Patrick and Darren address the romantic highlights of a love relationship. The song is inspired by Mort Garson's Our Day will Come. Reinvention is a collection of pure harmony. Jeff Lorber inserts his familiar bubbling synth bass, while Michael Thompson adds glittering points of guitar riffs with his distorted electric guitar.

In the age of the global pandemic, the life threat of this century, breathing has gone from being taken for granted to being a life-giving treasure. Exhale sets a sign of hope and tries to bring back joy of life in this gloomy time. Although Darren is involved in all but two of the recordings as a musician and producer, Song of May differs from those because on this track he excels as a soloist on the saxophone.

Sip' N the Breeze is on this album the only composition Patrick has co-written with Jeff Lorber. Notable is Lorber's synth bass throughout, which gives the track a lot of verve, and of course his solo on the Rhodes, on which Lorber is simply exceptional. Cat Man Blues is not a Blues in the traditional sense, since the basic mood of the piece is rather upbeat. Rick Braun on trumpet shines with pronounced dominance.
Meant to Be reminds me a bit of Lilly Was Here, which Candy Dulfer with Dave Stewart catapulted to a worldwide hit. The song featuring Darren Rahn on sax is performed in the typical call and response music style.

Lighthouse is characterized by Allen Hinds' guitar playing, which brings a little more rock to the arena. Patrick's organ work fits perfectly to this. In the Heart of the Seas surprises as an epic soft rock theme which could easily serve as the soundtrack for a nature film about the vast mountain world of the Rocky Mountains.

Providence is a multi-layered piece with references to rock, jazz fusion and other stylistic elements that leave nothing to be desired. How does the last piece Walk With Me position itself? Without a doubt, at this point Patrick has given himself the jolt to rock music with a powerful piece, as known for example from Emerson, Lake and Palmer.

On this album Patrick Bradley has made a long journey from the traditional smooth jazz to the unadulterated rock music. An amazing combination and development, carefully set on the path by successive changes in style. This is the practiced freedom as Patrick probably understands or wants to be understood by Exhale.




Album Information

Title: Exhale
Artist: Patrick Bradley
Year: 2021
Length: 0:51:03
Genre: Smooth Jazz
Label: Patrick Bradley Music


Tracks:

1) Completely Yours (4:11)
2) Reinvention (4:30)
3) Exhale (4:32)
4) Song of May (Featuring Darren Rahn) (4:24)
5) Sip' N the Breeze (4:09)
6) Cat Man Blues (Featuring Rick Braun) (4:57)
7) Meant to Be (Featuring Darren Rahn) (4:43)
8) Lighthouse (Featuring Allen Hinds) (4:04)
9) In the Heart of the Seas (5:47)
10) Providence (3:41)
11) Walk with Me (5:59)





Further reviews: