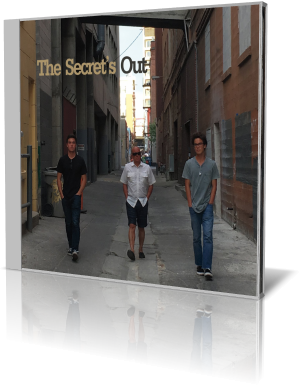 One can certainly describe Burt Brion as veteran in music business. When I reviewed his debut album Say The Word in 2005, he was already since 15 years a professional musician.
Last year he released his second album The Secret's Out with the support of some musicians mostly from the San Diego area. Guitarist Mark Shapiro and keyboardist Allan Phillips from Fattburger, guitarist Patrick Yandall and bassist Nathan Brown are mentioned in Burt's comment at CDBaby.
The Secret's Out is served fresh like a Pinnacle from Sumatra's fruit fields. Richard Seller's dry drum beats, Brant Leeper's vintage organ strokes and Burt on piano introduce into the piece soon joined by Mark Shapiro on guitar and Jason Weber on sax. This is a striking full house on your hand.
Back in the Game brings a lot of romantic mood wrapped in a melodious tune accompanied by Mark Fulton on a purring guitar and Nathan Brown on bass. Earth, Wind and Fire released Fantasy in 1977, one of their eternal hits. Burt Brian celebrates the song with a rendition, close to the original but with great passion for personally added details and interpretation.
Soft and fresh tones with touch of romance exude optimism on Captured in Time. While Burt follows the theme on piano, guitarist Patrick Yandall enhances the flexibility of harmonies through targeted stretching of tones adding some pepper and salt to the mellifluous melody. All I've Got offers a soft rock alternative with Burt as vocal leader of the professional crew.
Tahiti Rica indulges in Latin tinged rhythm and grooves with a combination of Bossa Nova and salsa featuring guitarist Jorge Camberos as worthy epigone of Carlos Santana. With great tremolo Burt Brian rejoices his love of his life on I Can't Imagine.
I do not know what the short name BBB stands for. Perhaps Burt Brion Bach? A classic appearance with a rocky superstructure. With the musical good-night kiss Prayers at Bedtime Burt embraces his feelings for his family standing firmly in Christian heritage.
Burt Brion is one of those rare musicians who does not constantly look for success. On the contrary he uses his music consistently as a reflection of his personality following his own sound by transcending the barriers of all genres.




Buy the album in all stores

Album Information

Title: The Secret's Out
Artist: Burt Brion
Year: 2016
Genre: Smooth Jazz
Label: Mr. B Records

1 The Secret's Out (feat. Mark Shapiro, Nathan Brown, Richard Sellers, Allan Phillips, Jason Weber & Brant Leeper) 3:57
2 Back in the Game (feat. Mark Fulton, Nathan Brown & Tres Hodgens) 3:38
3 Fantasy (feat. Nathan Brown, Richard Sellers, Mark Shapiro, Nathan Mills, Roy Gonzales & Mattie Mills) 4:20
4 Captured in Time (feat. Nathan Brown, Richard Sellers & Patrick Yandall) 4:21
5 All I've Got (feat. Nathan Brown, Richard Sellers, Mark Chosak, Chuck Haenny, Jason Weber & Mattie Mills) 4:10
6 Tahiti Rica (feat. Nathan Brown, Richard Sellers, Jorge Camberos & Allan Phillips) 3:55
7 I Can't Imagine (feat. Nathan Brown, Richard Sellers, Chuck Haenny & Nathan Mills) 4:14
8 BBB (feat. Nathan Brown, Richard Sellers & Kamau Kenyatta) 2:20
9 Prayers at Bedtime 3:44


Further review:


Say The Word