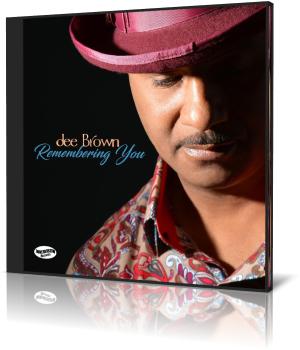 Time flies by and guitarist dee Brown is still on the top of game honing his skills to absolute perfection. All started with the debut album No Time To Waste in 2006. Soon followed A Little Elbowroom (2009), Brown Sugar Honey-Coated Love (2014) and this year Remembering You.
Dee is accompanied on this project by Valdez Brantley, Nate Harasim (piano, keyboards, programming), Kern Brantley, Takashi Lio (bass), Dezie McCullers Jr. (alto, tenor saxophones), Ron Otis (drums), Shaunia Edwards, Shannon Rice, Ester Todd, Winzell Kelly (vocals), Althea René (flute), and Bob Baldwin (piano, keyboards, programming, bass).
Dee Brown introduces into his new project with romance. I Want You Too is designed for the ladies. The influence of George Benson shines through in phrases and notes. Hey Baby joins seamlessly. Dee's fluent style is perfectly supported by strings and sax.
On Pop the Question dee makes his thing, while Valdez Brantley gives the tune that certain je ne sais quoi with his vocoderized vocals. Our Summer has the ease of a delicious cocktail featuring Althea René performing her lovely flute. Guitar and flute merge into a sweet, harmonious sound.
I Will are the famous words when bride and groom say yes to each other. Be aware that dee dedicated the entire project to his late fiancée Shaunia Edwards, he tragically lost by an unexpected illness while he was preparing for their summer wedding.
Follow You musically approaches the theme of togetherness, with an intangible melody that internalizes eternal longing. So Much glorifies modern jazz guitar with an orchestral strings set. Pop the Question (D-Funk Remix) emphasizes the funky note with an extra dose of vocoder.
On Beauty Within the Bensonesque combination of guitar music and scatting is again a priority. Remembering You tonalises the sadness of loss in an instrumental duet of dee on guitar and Dezie McCuller on soprano saxophone.
Dee Brown remains with Remembering You true to his artistic integrity as jazz guitarist. However, the entire project is overshadowed by the death of his beloved fiancée, so that a muted melancholy pervades his entire work.




Buy the album in all stores

Album Information

Title: Remembering You
Artist: dee Brown
Year: 2018
Genre: Smooth Jazz
Label: Innervision Records

1 I Want You Too 3:40
2 Hey Baby 3:41
3 Pop the Question 3:39
4 Our Summer (Intro) 0:28
5 Our Summer 4:13
6 I Will 4:20
7 Follow You 3:45
8 So Much 3:22
9 Pop the Question (D-Funk Remix) 3:57
10 Beauty Within 3:43
11 Remembering You 4:10


Further Reviews:


No Time To Waste