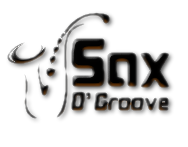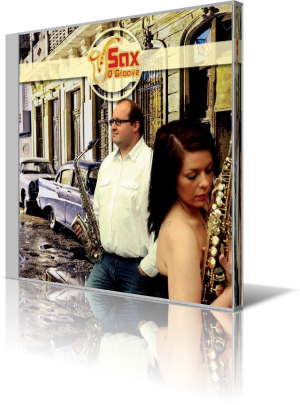 During the Smooth Jazz Festival Augsburg 2010 I had the opportunity to attend a concert of the group Akusticos. Their fresh smooth jazz performance received great applause of the audience and all listeners trust in the splendid future of these young musicians. Akusticos are John Odio (sax) and Walter Chepe Blanco (guitar). This band from San Jose, Costa Rica plays together since more than ten years and shows top-quality music.
Promoted was this group by the German publisher Andreas Buechel, who also released their album Lluvia (2010) on his label Print Sound UG. Andreas' secret passion is the sax. With the release of Sax O'Groove (2013) is this passion an open secret. Sax O'Groove is a cooperation of Andreas Buechel and John Odio. Both recorded, mixed and produced all songs.
Andreas is performing sax, keyboard and additional programming, John drums, additional saxes and keyboard. Both are joined by Walter Chepe Blanco (guitar), Andreas Jimenez (bass), Isaac Quiros (trombone), Dirk Steinberg (sax) and many more.
Closer To Me is a lovely ballade with a slight oriental intonation. As the title indicates is Baila Loco a Spanish flavored tune underlined by a deep synth bass. Andreas' soprano sax brilliantly concurred with Dirk Steinberg's alto sax. You Are By My Side is a heartfelt love song performed by Sara Lauhoff and the known saxophones. The drum programming reminds me of Milli Vanilli's hit beats.
Go Your Own Way presents a catchy melody. Especially the sax solo knows to impress. Sax On The Beach is a sunny reggae tune awaking the desire for a cruise into the Caribbean. Regresa A Casa (Returns home) finds my interest through Walter Chepe Blanco's guitar performance. His outspoken love for the saxophone and horn arrangements can also be seen in the song The Other Side.
On The Lifeline is a refreshing counterbalance to the previous piece. The pairing of violin and saxophone has its charm. The re-recording of Baila Loco explains where Andreas sees his focus. The piece Alone At Last includes much autobiographical. As an instrumental it reveals however not too much. The album closes with the classic pieces Pavane Op. 50 and Panis Angelicus. The implementation expects a certain tolerance readiness.
Andreas Buechel has fulfilled with Sax O'Grove his lifelong dream. The album leaves enough space for the further development.




Biography

Website


Buy the album in all stores

Album Information

Title: Sax O'Groove
Artist: Sax O'Groove
Year: 2013
Length: 0:47:07
Genre: General Jazz
Label: Print Sound


Tracks:

01 Closer To Me [2:59]
02 Baila Loco [3:31]
03 You Are By My Side [4:12]
04 Go Your Own Way [4:47]
05 Sax On The Beach [3:49]
06 Regresa A Casa [5:59]
07 The Other Side [3:09]
08 On The Lifeline [3:51]
09 Baila Loco Radio Edit [3:31]
10 Alone At Last [4:22]
11 Pavane Op. 50 [3:40]
12 Panis Angelicus [3:17]