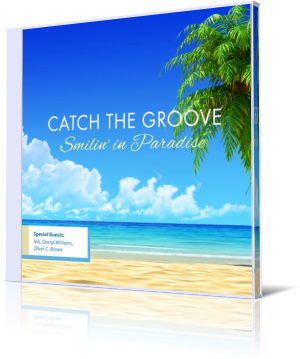 Jacksonville, Florida based formation Catch The Groove was founded by guitarist Ellis White. The core lineup is featuring bassist John Baker, keyboardist Malik Graham and saxophonist/flutist Michael Stanley. New members are trumpeter Max Bednarchik, percussionist Elvyn Rodriguez and drummer Omar Torres.

The EP Smilin' In Paradise is their debut project. The first track Shaken Not Stirred was written and produced by Nils Jiptner. He is well known for his prolific work and outstanding nationwide reputation. The energetic piece has that certain powerful and energetic groove, we love by this great guitarist. Ellis White performs the guitar, while bassist Darryl Williams, and percussionist Oliver Brown have an appearance as guest musicians.

The characteristic and unique sound of the group shows in its impressive expression on the second tune She's My Groove. Driven by John Baker's signature bass, fine tuned by keyboardist Malik Graham, saxophonist Michael Stanley and trumpeter Max Bednarchik present a superb and sonic horn arrangement.

When I See Your Smile is based on this proven horn concept, but thrills the audience with a convincing and logically consistent melody. The aptly titled song Paradise combines all form of horn sounds melting into a perfect full-blooded smooth jazz. With Bolero De Funk the group spreads Latin flavor to their vibrant contemporary instrumental style.
Catch The Groove is name and impetus of this new rising star from Jacksonville. Smilin' in Paradise is a small foretaste of heaven with full body and savory melodies of more to come.



Website

Biography

Buy the album in all stores

Album Information

Title: Smilin' In Paradise
Artist: Catch The Groove
Year: 2017
Genre: Smooth Jazz
Label: Ctg Music Productions LLC


Tracks:
1. Shaken Not Stirred 4:19
2. She's My Groove 4:19
3. When I See Your Smile 4:24
4. Paradise 4:01
5. Bolero De Funk 3:10