Klay D-C RITMO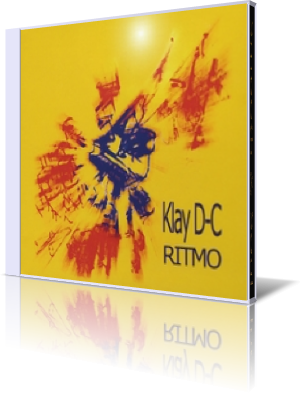 Klay D-C (Klay Dumas-Copas) was infected by the music-virus through his father Ronnie, who played in The Dedicated Men Jug band in the '60s.
Klay started his career with the group The Jazz Steppers (further members were Pat Leacock, Dean Mark and Tony Smith) and released the albums Get Up! (1998) and The Next Step (2000). Both albums were published on Passion Music, UK's premium label in contemporary jazz. Unfortunately this label discontinued its production like many others.
But Passion Music's artists especially Chris Standring, Duncan Millar, Shakatak and more are still around. So nothing is lost. Klay spent some time in Roy Ayer's Ubiquity Band, which he quit in 2005. Klay's return in the contemporary jazz scene is entitled RITMO (2010), the Spanish word for rhythm.
Klay has assembled on his album UK's prominent musicians Allan Simpson (guitars), Rene Melonez, Orefo Orakweu and Dean Mark (bass), Jason Short and Tony Smith (guitars), Andrew Milnes (sax), Mark Saunders and Bob Morales (drums/programming).
The album starts with a sophisticated piano phrase, which meanders into a kaleidoscope of rhythms and finally into an appealing salsa tune. Klay entitled this song Mungabunga, which onomatopoeically describes, what the curious and then surprised listener can await.
With Ritmo Klay finally reached the shores of Latin music, walking along the Copacabana enjoying the glittering air, the warm water and the fine sand. Allan Simpson spreads his guitar tones in the style of Carlos Santana.
With subtle mellow vibrations Azure caresses our ears. Solid piano runs accompanied by guitar chords meet experimental keyboard sounds, all melted in a soundscape of the finest Latin jazz, one can find on this planet.
This supreme quality of sound is continued with Somethin' Else. How I missed this sound since the glorious days of the original JazzFM. Klay's piano performance is just superb and stands any comparison with Bobby Lyle, Joe Sample or Bob James.
Future Proof reveals more of Klay's bravura and mastership in all kind of keys from piano to Rhodes. Usually recognized as salsa but without any doubt a pack of energy. Wadyawant? Easily answered: Salsa like this! I cannot get enough of that.
The Muse is a relaxed improvisation around a groovy theme. With a light Bossa Nova Swing we drive along the Coast Road. Enough space for expansive improvisation, the pianist and the audience love so much.
Dune Tune walks along the Brazilian line but with a strong jazzy attitude. Sound and Rhythm united in a pepperish mixture. Thoughts Of You features Andrew Milnes on sax, who should definitely step into lime light. He is so talented.
Final track on the album is Bounce. Again fantastic jazz piano with the ultimate Latin groove.
When rhythm meets intelligence when melody meets improvisation, you find Klay D-C at the point of all intersections. This album is hard to beat, but impossible to pass.




Buy the album at CDBaby

Album Information

Title: Ritmo
Artist: Klay D-C
Year: 2010
Length: 0:56:00
Genre: General Jazz
Label: dbug music multimedia


Tracks:

01 Mungabunga [6:26]
02 Ritmo [5:21]
03 Azure [5:02]
04 Somethin' Else [4:13]
05 Future Proof [5:42]
06 Wadyawant? [4:54]
07 The Muse [5:35]
08 Coast Road [6:25]
09 Dune Tune [4:35]
10 Thoughts Of You [4:06]
11 Bounce [3:42]