Jimmy Demers - Dream A Little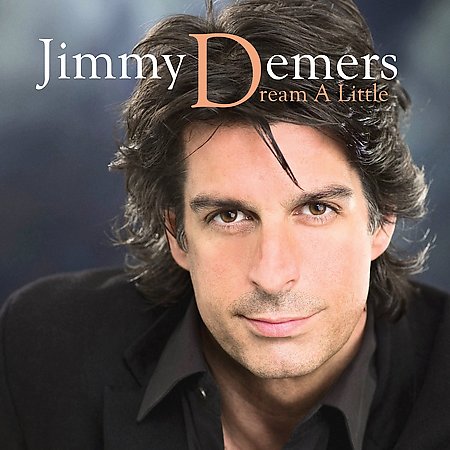 Who is Jimmy Demers? First of all he is a blessed singer. Jimmy is one of the greatest "unknown" vocal artists I ever heard. Can you imagine that this guy has performed as a studio session singer with Giorgio Moroder, David Foster, Cher, Garth Brooks, Dionne Warwick or Bob Hope? You will certainly heard his voice on jingles of AOL, Coca Cola, McDonald's or Mellow Yellow.
Well, after many years Jimmy signed with Concord Records and his debut album Dream A Little is scheduled for release September 23rd. While some try to categorize his songs as smooth jazz I would say, it's just good music. I can promise you, after listening to his album you will be hooked.
The impression, that we discovered with There She Goes an old Beatles song, isn't quite groundless. The tune has a structure like some popular songs of the Fab Four. At the start Jimmy is accompanied by a single notes playing piano before the whole orchestral background sets in.
She Knows showcases Jimmy Demers smooth vocals caressed by electronic guitars, piano, strings and keyboards. Interlude for Mariel is similar to Tears for Fears' Sowing The Seeds Of Love. I love this style of music.
Wonderful ballades like We Go On and On Saturday Afternoons in 1963 clarify, we can testify the birth of a new crooner. Songs like Nothing Hurts Like Love suggest to see a second Julio Iglesias, but Jimmy is unique, honest and authentic.
The talented Grammy Award winning arranger, Victor Vanacore, orchestrated two tracks on Dream a Little. It's a Lonely World is a good example how Victor enhances the whole tune. His superlative performance includes original arrangements, top-notch piano performance and a stage presence that is sure to please. Like Ray Charles Jimmy Demers profits greatly from this magic arranger and conductor.
The uplifting We Just Disagree relies on modern techniques like drum programming and synth sounds. First of all Jimmy Demers is an attentive listener of contemporary and classic Pop music. His borrowing of this genre is genius, because he takes the structures and rebuild the music in his own way. In Special for example you find set pieces of Climie Fisher or Robbie Nevil.
Heartfelt ballades like Just Another Night, Maybe I or Save Your Love for Me are certainly Jimmy Demers' strength. His expressiveness is simply impressing. He is on the same level as Barry Manilow, Perry Como or Dean Martin.
Dream a Little Dream of Me is certainly a part of music history. This song was covered by Doris Day, Louis Armstrong, Ella Fitzgerald, Bing Crosby, Michael Bublé, Diana Krall and numerous more. The most popular cover version was performed by "Mama" Cass Elliot of The Mamas & the Papas, in 1968, which sold 7 million copies. Jimmy's version bases on this Cass Elliott classic and features not only the voice of Jimmy's own mother (in a cassette recording found just weeks after her death) but it also features the voice of Mama Cass' own daughter, Owen Elliott.
The versatile and high-class singer Jimmy Demers has on Dream A Little his final outbreak. This album has a high potential for a chart topper.




Title: Dream A Little
Artist: Jimmy Demers
Year: 2008
Length: 0:44:55
Genre: General Pop
Label: Concord Records


Tracks:
01 There She Goes [3:18]
02 She Knows [3:59]
03 Interlude for Mariel [0:56]
04 We Go On [4:13]
05 On Saturday Afternoons in 1963 [3:09]
06 Nothing Hurts Like Love [3:04]
07 It's a Lonely World [3:56]
08 We Just Disagree [3:06]
09 Special [3:45]
10 Just Another Night [3:52]
11 Maybe I [4:34]
12 Save Your Love for Me [3:14]
13 Dream a Little Dream of Me [3:49]