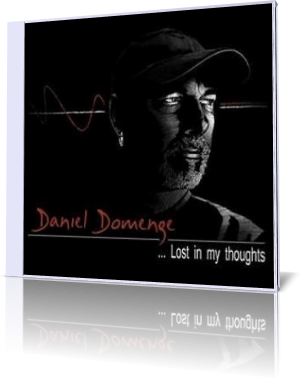 French guitarist Daniel Domenge from Languedoc-Roussillon released in 2008 his debut album Patchwork. Now he is back with his new smooth jazz project entitled Lost In My Thoughts (2013).
He performs on this album guitars, vocals and keyboards and is joined by Emmanuel Beer (organ, electric pianos, Clavinet) and Reynald Evrard (additional drums & percussions programming), who already supported him on his first album. New in the team is Xavier Cortazar on bass.
Album cover and title of the CD associate somber music. This impression is, however, refuted by the warm-hearted pieces. Domenge introduces with the melodic Between Your Hands into his new project. In the center is the brilliant guitar performance, who leads the melody with all nuances.
Back To The Past offers a funky attitude with great vintage effects. On the title song Domengue increases the intimacy through the use of jazz brushes. Vibraphone and organ underline this impression. With On The Wave comes the popular shuffle beat to advantage.
The relaxed attitude continues on Head In The Clouds with Daniel's humming in the style of George Benson. Always To Run comes along with a funky note always strong in the smooth jazz genre. When Domengue builds his guitar solo, he really shines. But he also impresses with captivating melodies such as the sunny Have A Good Day. The oil in the gearbox are however his accompanying musicians who deliver a fantastic performance.
Little self-promotion for his country with French Connection is also allowed. Asian instrumented cannot describe well Asian Dream. More likely takes Domengue this idea as a starting point to a further guitar interpretation. Latin Flavours is exactly what the title promises. Domengue's guitar solo is top-notch.
Lost In My Thoughts is a unified whole without being boring. For guitar fans a real treat.




Biography

Website


Buy the album

Album Information

Title: Lost In My Thoughts
Artist: Daniel Domenge
Year: 2013
Length: 0:42:10
Genre: General Jazz
Label: Independent


Tracks:

01 Between Your Hands [4:30]
02 Back To The Past [4:05]
03 Lost In My Thoughts [4:15]
04 On The Wave [4:03]
05 Head In The Clouds [3:40]
06 Always To Run [4:32]
07 Have A Good Day [4:48]
08 French Connection [3:26]
09 Asian Dream [4:54]
10 Latin Flavours [3:57]

Further review: