Daniel Domenge Patchwork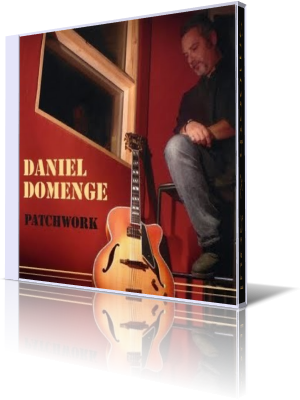 Some critics define smooth jazz as universal language around the world, which is absolutely true. But we shouldn't underestimate the French influence. Take for example the brilliant keyboard player Philippe Saisse, or the guitarist Emmanuel Abiteboul, better known as U-NAM, furthermore guitarist Marc Antoine, who turned out to be a real globetrotter.
But let's concentrate on guitarist Daniel Domengue, who calls the French city Languedoc-Roussillon his home and musical center. During the years 2007/2008 he recorded his debut album Patchwork. Daniel was supported by his friends Emmanuel Beer (Hammond B3 & Rhodes electric piano), Bruno Monard (drums), Thierry Gautier (organ solo on Influences) and Reynald Evrard (additional drums & percussion programming), who also recorded, mixed and mastered the album.
The album begins with Smoothjames, a delicate guitar piece presenting Daniel's elegant loops. I admit, since my first George Benson albums I love the sound of this guitar. But hey, Daniel Domenge is on top of the game and provides some nice acoustic surprises. That can mainly be put down to the very intelligent keyboards accompany.
Cool presents Daniel in an uplifting mood humming along his guitar performance. Daniel has written all the songs on this album and his arrangements are really superb. Emmanuel Beer shines on Rhodes piano. The interplay between all instruments is extremely perfect and when we speak about flow, this music deserves that attribute.
The French word Nonchalance means care freeness or casual lack of concern. An attitude to life, which the French calls "savoir vivre". Indeed Daniel's music expresses this kind of laid back mood in a brilliant way. This is entertainment pure. The background sounds are sometimes a question of taste but wake you up before you fall into dreams.
The title song shows more of Daniel's professional treat of his guitar. He combines several approaches to play the guitar to a multi-colored layer creating a fantastic hook. Daniel chose the title Influences for the next song in total awareness. Daniel is influenced by many smooth jazz guitarists from Wes Montgomery, Chuck Loeb to Paul Jackson Jr. and Steve Laury. Structure and performance of the song evoke memories of the late guitarist Joe Pass. Thierry Gautier's organ support underlines this atmosphere.
Next One is a little break to the previous tunes. While Daniel has a strong connection to the past, his representation is very contemporary. But isn't that the difference to more decent renditions of other guitarists? I like this fresh method.
Superb is also the contrast between, jazz, funk and smooth jazz on Watercolour, which are first confronted and the melted. The album finishes with a glimpse to Daniel's impressions of Last Summer. There is perhaps some melancholy or nostalgia in the air. The brief mention of steel pans conjures associations of Martinique.
Patchwork is an pleasurable album which entertained me from start to end. I hope Daniel has enough ideas for further albums of such quality.




Album Information

Title: Patchwork
Artist: Daniel Domenge
Year: 2008
Length: 0:39:10
Genre: Smooth Jazz


Tracks:

01 Smoothjames [4:39]
02 Cool [4:53]
03 Nonchalance [4:45]
04 Patchwork [4:20]
05 Influences [5:06]
06 Next One [5:24]
07 Watercolour [4:28]
08 Last Summer [5:36]