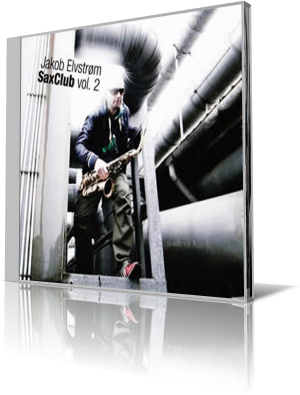 Saxophone players from Europe often develop a different style than American musicians. This can be seen also in the Danish saxophonist Jakob Elvstrøm, who has remained unlike Michael Lington in his homeland.
This was already visible on his debut album SaxClub vol. 1 (2009) and continues on his second album SaxClub vol. 2 (2013). Jakob has written and arranged fourteen new originals. The album starts with the funky U.F.O. in the tradition of Pick Up The Pieces. Elvstrøm on sax meets Steen N. Hansen on trombone to a fat brass mix propelled by Henrik Møller on bass.
Lonely People offers a heavy techno groove featuring Jamaica born singer Roy Richards on a stomping beat. Long Lost Love served as the title suggests the romantic side of the listener. St. Tropez Off-season is a relaxed ode to the glamorous southern French city. The song is decorated by a French speaking woman with some funny comments about the city.
American singer James Loveless lends his soul wrenching vocals to the funky Git Hit In My Soul. Elvstrøm has also an open ear for African music. Discotheque Mombasa is his contribution to the Kenyan harbor town. Almost continues with a strong African beat. With Spin That Record Elvstrøm returns to a fast paced funk.

In contrast follows the airy Music Is... (My inspiration) featuring Thera Hoeijmans, an illustrious Danish jazz singer with Dutch heritage. On 2 Cool Elvstrøm returns to a funky attitude. SoulMama presents Zimbabwean soul, blues, jazz and gospel singer Miriam Mandipira, who has contributed her style to this album and the Danish music culture.
Elvstrøm referred Eastern Fonque as Balkan Funk. A lively cheerfulness is not to deny to the song. He plays with Later Duke from the laid card. Final tune is a radio edited version of Lonely People.
Jakob Elvstrøm shows with SaxClub vol. 2 interesting approaches. Merit feature is the integration of many artists from the Danish cultural scene. Because of its versatility this album seeks an audience with an open mind.



Album Information

Title: SaxClub vol. 2
Artist: Jakob Elvstrøm
Year: 2013
Length: 1:05:21
Genre: General Jazz
Label: Digidi Danmark


Tracks:

01 U.F.O. [5:07]
02 Lonely People (Featuring Roy Richards) [4:53]
03 Long Lost Love [5:25]
04 St. Tropez Off-season [3:37]
05 Git Hit In My Soul (Featuring James Loveless) [4:28]
06 Discotheque Mombasa [4:44]
07 Almost [4:51]
08 Spin That Record [4:30]
09 Music Is... (Featuring Thera Hoeijmans) [5:36]
10 2 Cool [5:19]
11 SoulMama (Featuring Miriam Mandipira) [4:21]
12 Eastern Fonque [4:08]
13 Later Duke [4:50]
14 Lonely People (Radio Edit) (Featuring Roy Richards) [3:32]



Further review: