Tommy Emmanuel - Center Stage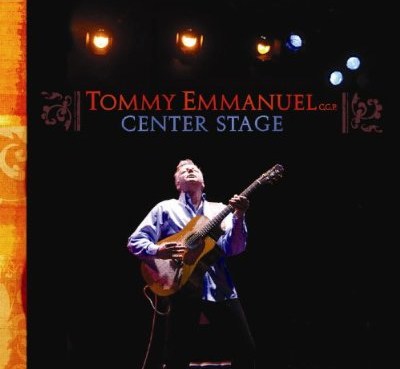 Acoustic guitar music has found a growing community of fans. I often reviewed guitar albums like Antonio Restucci's Placa del Angel, Toni Xuclà's Cherry Earrings, Jim Savitt's Hear And Now, Michael Ripoll's Discovery Anew, Artie Traum's The Last Romantic, Jamie Bonk's My World, Patrick Yandall's Back To The Groove, Tom McElroy's Inoy and many more. Most of you will know the music of Peter White, Marc Antoine, George Benson or Michael O'Neill.
Tommy Emmanuel is an acoustic guitar player of his own class. No wonder, he started his career with 4 years in Australia. Read his adventurous bio at his website. His multi-colored life as a musician mirrors in his awesome music he already shared with stunning musicians like Chet Atkins, Les Paul, Keith Urban, Eric Clapton, Sir George Martin, Tina Turner, Joe Walsh, Stevie Wonder, Nokie Edwards (of the Ventures), Hank Marvin, the Lexington (Kentucky) Philharmonic, the Dortmund (Germany) Symphony, and the Western Australian Symphony Orchestra.
There are only a handful guitarists which can perform solo guitar in front of a great audience for a whole event. Tommy Emmanuel is one of these heroes. Chet Atkins honored Tommy Emmanuel with the title of "Certified Guitar Player" for his lifetime contribution to the instrument, a rare honor shared by only three other people in the world. In October 2007, Tommy spend 3 days at the Sierra Nevada Brewery recording in audio and video. The result is a DVD and a Double CD titled Center Stage.
CD 1 starts with The Finger Lakes. The song is titled after a chain of lakes in the west-central section of Upstate New York often visited by thousands of tourists as a sightseeing attraction. Tommy mesmerized with his guitar mastery and his haunting melody which immediately spell bounds the auditor.
Papa George is dedicated to the legendary Beatle George Harrison. Tommy comments: " I think the melody is really the most important thing. Everything else you can create around it, but you get that melody out there, and if you can get that melody out there while playing a finger-style arrangement, it's very exciting, and very self-contained." So every of his songs is a precious jewel one wants to hold tight in your hands.
The up-tempo Train To Duesseldorf is a reminiscence to the fans in Northrhine-Westfalia, Germany. Tommy caught the train from Lippstadt to Duesseldorf in the earlier hours and got the idea to write a little soundtrack about his experience. A breathtaking song you should really listen live.
The Australian Peter Allen wrote the title I Go To Rio in 1977. The uplifting song was covered by numerous artists like Pablo Cruise, Richard Clayderman and Ray Hamilton. Tommy's version is a par force-ride through the song.
The American Country singer Merle Travis composed Nine Pound Hammer, soon a classic. Tommy introduces his rendition with the words "Oh, I love this tune!". Tommy mixes guitar, percussion, bass runs in a brilliant one-man-show. "We don't need a stinking band here!"
Tommy Emmanuel's album Endless Road was originally released in Australia in 2002, later in U.S. in 2005. From this album Tommy performs Old Town in his typical finger picking style.
Tommy originally release And So It Goes for his album Mystery (2006): "I've been a Billy Joel fan since the '70s. That guy is an incredible songwriter. I really admire him greatly. I was just messing around with that song one day, and I thought, "Wow, this could work on the guitar!" So Tommy tells his own story of this song.
Jolly Swagman, a new song composed for Center Stage, is performed in the tradition of Merle Travis. Starting in a fast Western style later changing to a ballade. Sukiyaki is dedicated to Tommy's fans in Japan. The song was originally performed by Japanese crooner Kyu Sakamoto, and written by Rokusuke Ei and Hachidai Nakamura.
Tommy and renown jazz guitarist Jim Nichols from northern California recorded Chet Lag, a tribute to Chet Atkins music in 2000. Tommy added three song and re-issued that album in 2006 under the title Happy Hours. The title song has a fresh and uplifting attitude.
Ruby's Eyes was written by Tommy at the airport of Melbourne, Australia. He met there a little girl. Tommy asked her mother after the name of her daughter. She answered "Ruby". And Tommy returned: "Ruby, I have written you a song." A heartfelt ballade with a serious somehow sad nucleus.
Tommy loves to play some Beatles songs in his shows. On this album he performs a Medley of Here Comes The Sun, When I'm 64, Lady Madonna and Day Tripper. With his right hand he plays the rhythm part, while he performs in his finger style with his left hand the main melody.
Final tune on the first disk is Mombasa. Tommy starts the song with a heavy percussion show using the body of his guitar as drum. For Tommy his acoustic guitar is not just a guitar but a wooden box with strings on it. So he improvises in many ways a normal guitarist wouldn't even imagine. Tommy composed the song inspired by visiting a school in Kenya, he and his family sponsor through World Vision.
CD 2 presents as first tune Workin' Man Blues. The song was written by Merle Haggard in 1969 and was released on his album A Portrait of Merle Haggard. It is Haggard's tribute to the American blue-collared working man. Tommy sings the Blues accompanied by the dangerous Bob Littell on harmonica, the perfect duo.
Georgia On My Mind, the official state song of Georgia, was composed by Hoagy Carmichael. Ray Charles made the song popular on his album The Genius Hits the Road (1960). Tommy and Bob create an awesome rendition with the maximum of emotion.
House Of The Risin' Sun, a folk song best known in the rendition of the Animals (1964), is expanded to more than 6 minutes on Tommy's version with great solos of guitar, harmonica and percussion.
Amazing Grace is another eternal hit often performed on Tommy's shows. is one of the most well-known Protestant hymns. The words were written by John Newton; they form a part of the Olney Hymns that he worked on, with William Cowper and other hymnodists. Tommy's fans love the spiritual attitude of his own interpretation.
In Story Of Little Boy Tommy speaks about his close encounters of the third kind with a little boy. Although it's somehow his appall to the youth to early learn an instrument, the punch line is full of bitter humor.
Tall Fiddler from the album Endless Road (2005) is another of Tommy's fast-paced showpieces. No other guitarist can play so many notes in such a short time. Cowboy's Dream is from his album Mystery (2006). A crowd pleasing song with an intriguing melody.
Morning Aire, another tune from Endless Road, concentrates on the slow peaceful music avoiding tempo and finds so the brilliant expression. Some of Tommy's tunes for relaxation. Initiation is a psychedelic song about an aboriginal ceremony. Tommy creates the sounds on his "white man thunderstick" with technical effects like reverberation.
Lenny Bro is dedicated to late Lenny Breau, a Canadian guitarist experienced in many styles like flamenco, country or jazz. Like Chet Atkins and Tommy he was a specialist in fingerstyle techniques. Tommy swings jazzy in Lenny's style.
The album closes with the peaceful and touching Questions. The tune was released on his album Only (2002).
Tommy Emmanuel is not only an eclectic guitar player, but the ultimative reference for all acoustic guitarists. His popularity is simply explained with his breathtaking mastership. The Double CD Center Stage is probably the best way to become aquainted with this genius.



Title: Center Stage
Artist: Tommy Emmanuel
Year: 2008
Genre: General Folk/Jazz
Label: Favored Nations LLC.


Tracks:

(Disk1) Length: 0:47:49

01 The Finger Lakes [3:38]
02 Papa George [1:53]
03 Train To Duesseldorf [2:02]
04 I Go To Rio [2:19]
05 Nine Pound Hammer [4:47]
06 Old Town [3:02]
07 And So It Goes [3:23]
08 Jolly Swagman [3:03]
09 Sukiyaki [1:35]
10 Happy Hours [2:24]
11 Ruby's Eyes [4:19]
12 Beatles Medley [6:11]
13 Mombasa [9:14]


(Disc 2) Length: 0:52:35

01 Workin' Man Blues [5:29]
02 Georgia On My Mind [5:11]
03 House Of The Risin' Sun [6:15]
04 Amazing Grace [4:31]
05 Story Of Little Boy [1:35]
06 Tall Fiddler [2:24]
07 Cowboy's Dream [3:30]
08 Morning Aire [5:55]
09 Initiation [10:54]
10 Lenny Bro [3:13]
11 Questions [3:38]