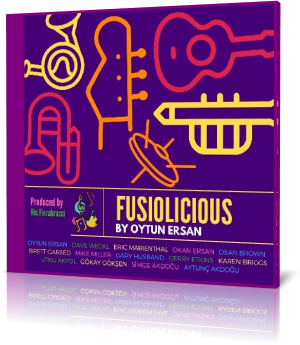 Nicosia based Turkish-Cypriot Oytun Ersan has made a name as internationally acclaimed bassist, composer, recording artist and a member of the Recording Academy.
Ersan is also since more than 20 years member of the International Nicosia Municipality Orchestra first as saxophonist and later as bassist. He started his solo career with the album East Meets West (2015). Fusiolicious (2018) is his sophomore album in the jazz fusion genre.
Oytun Ersan assembled a great team of professional musicians to create a high-class jazz fusion album of international standing. Beside Oytun Ersan (composer, bass) are performing Dave Weckl (drums),
Eric Marienthal (saxophone), Gary Husband and Gerry Etkins (keys), Dean Brown, Mike Miller, Brett Garsed and Okan Ersan (guitars), Karen Briggs (violin), Gökay Gökşen (trombone), Utku Akyol (trumpet), Aytunç Akdoğu and Simge Akdoğu (vocals).
The field of jazz fusion has become the reservoir of virtuosos. It is therefore not surprising that Oh, That Butterfly! is a substrate of fast and ambitious jazz propelled by Oytun's bass and rich solos of the participating musicians.
Mysterious Maze shines with an incredibly precise interplay of the jazz musicians, whereby Dave Weckl is the driving force on the drums. Another highlight is Eric Marienthal on sax who feels more at home in contemporary jazz than in smooth jazz. Especially in jazz fusion he can fully enjoy his energetic approach. Through Dean Brown's distorted guitar and Gerry Etkin's synthesizer use, the piece gets a powerful push into jazz rock.
Gary Husband introduces into Rise Up with an extensive piano prelude where Karen Briggs joins on the violin. But then, as expected, the piece picks up speed. Karen Briggs sets strong accents that go quickly into crescendo. Eric Marienthal is also a cornerstone of improvisation. Finally Dave Weckl delights us with a breathtaking solo, which is spiked staccato like with horn inserts.
L.A. brings back memories of Shaft's film tune. Gerry Etkins launches a rocket on the keys before he dives into heavy rotations on Rhodes piano. Oytun Ersan smoothes the waves on his bass and leads calmly into Rooms until the main theme starts, a sonic ecstasy.
You think you've heard a lot about jazz and then Eric Marienthal comes along and puts down an incredible stretch of improvisation and creative explosion that is unparalleled. Gerry Etkins catches up with a brilliant keyboard solo making Ocean to your special jazz festival.
Oytun dedicated Sacred Solace to his belated father, who was diagnosed with stage 4 skin cancer and passed away days before the planned release date of this record. Oytun postponed the release, adding this final track to the record as his tribute. This information in the back of your mind the piece captures with all its emotional depth.
Oytun Ersan's Fusiolicious is artistically adventurous, technically proficient, overall the nucleus of jazz fusion avant-garde.





Buy the album in all stores

Album Information

Title: Fusiolicious
Artist: Oytun Ersan
Year: 2018
Genre: Jazz Fusion
Label: Independent

1 Oh, That Butterfly! 8:04
2 Mysterious Maze 8:36
3 Rise Up 8:30
4 L.A. 7:19
5 Rooms 7:47
6 Ocean 7:03
7 Sacred Solace 2:24