---
Nathan Heathman - Right Here Right Now

Nathan Heathman has played with the cream of Soul music like the late Phyllis Hyman, Rachelle Farrell, Norman Connors, Jennifer Holliday, Miki Howard, Angela Bofill and Jean Carne. Attentive fans of Smooth Jazz also know his relationship to Norman Connors, whom he had supported. Nathan first solo release is his album Right Here Right There.
Until We Meet Again starts with Kevin Levi's sensitive Alto Saxophone solo introducing Nathan warm and intimate voice. The leading melody of a longing heart is gently plaited by Kevin 's sax solos.
Accept The Chance is another awesome interpretation of a love song with a nice keyboard solo. Nathan is the perfect combination of a singer and instrumentalist.
Not Gonna Bring Me Down is a midtempo tune about the eternal relationship between man and woman.
I Can Feel It Will Get Better features Patricia's Greene Gueory silk and smoky vocals.
Anew Kevin Levi's sax play brilliants on the slowtempo"Hi Dahlin" (Hi Darling) accompanied by Nathan 's pianoplay on Steinway grand piano interupted by Gerry Gillespie's short keyboard solo.
The vocals of Nathan Heathman and Jean Carne joins together on Lean On Me to a Gospel-like highlight.
On Last Time Trying continues the slowtempo romantic mood of typical love songs.
Guess I Didn't Really Know You After All features Marjorie Hughes impressive expressiveness. I didn't know until this time that Jean Carne can whistle and using her mouth as such an instrument. Phenomenal!
After eight slowtempo tune Nathan has surely decided to go more uptempo. Just Kicking It is this funky uptempo interruption. This tune contents all incredients of a groovy Funk and DJ "Mello T" gives the Funk the contemporary Hip Hop touch.
Contrast Emotion is an excursion to a more uptempo Disco-sound with a blend of distorsion guitar, piano and background sing-sung.
After these contrasts Nathan returns to a slowtempo love song on Right Here Right Now, the title song. Ray Tilkens guitar solo and Nathan impressing voice let's prick our ears.
Believe Me It's Real continues this slowtempo romantic mood. Kevin Levi remembers us of his skillfullness in sax playing.
In A Hurry To Get Nowhere showcases Dante Hawthorne Soprano Sax qualities. Nathan reveals his jazzy background in a wonderfull piano interpretation.
The final is a Dance Remix of Contrast Emotion with some keyboard orchestral accords, vocal samples, drum-programming and raps. Outstanding Patricia Greene Gueory ("Shang") vocals reaching the highest hights.
---
André De Lang - Educate Your Soul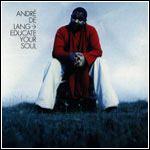 André de Lang, a singer born in South Africa, had the first musical contacts with noone else than Jonathan Butler, for whom he played the bass. After touring with several gospel-groups in Sueden, he settled down in Stockholm, where he soon became part of the local Acid Jazz scene. But his heart is beating for the Soul music. He expresses his devotion for this genre in his albums Worth The Wait from 1996 and Educate Your Soul from 2000, released in UK 2001.
Could You Be ... ( My Favourite Girl), a midtempo tune with a fresh beat shows André's something different modern approach to Soul music.
Finally profits from the same Hip Hop beat. The introducing background vocals singing Oh, Jojo reminding of Coco Jamboo of Mr. President. The tune has some nice jazzy impacts by the brass section of Goran Kajfes - Trumpet and Per Ruskträsk Johansson - Saxophone.
Sunshine (Radio Mix) has all incredients for a radio hit. Uptempo beat and a hooking melody. Just the right hit for long summer dances in the Suedish midsummer night.
But André also understand the quiet sounds as you can listen at For Your Love. The song is as all others well-arranged with a tasty background chorus.
Where 's A Question ... There's An Answer (Oyster Mix) is introducing a wonderful chorus, which let you await a Gospelish tune, but immediately the character of this tune changes to a Hip-Hop tune with a Soul overlay. Personally I don't like these soulless too hard drum beats and the booming basses pressing the deepest sounds out of my loudspeakers. Oh, yes: Caron Wheeler is accompanying on vocals. The song is obviously written for her.
But his next admirable tune Same Ol' Story with an awesome chorus is reconciling.
Angel Eyes is another hooking ballad. Sophisticated souls will find satisfication by a broad variation of instrumental arrangements.
Educate Your Soul is the uptempo title song featuring ADL 's Rap. A modern song with Hip Hop beats and accentuated vocals framed by interesting keyboard sounds.
The Beautiful Song is a slowtempo song but nomen isn't omen. Same Ol' Story or Angels Eyes are convincing more.
Thula Mama, a reminescence to André 's African heritage, is introducing into the Zulu language.
My Heart Goes (Aj, Aj, Aj) is a mixture of Hip Hop, Spanish Flamenco and Drum and Bass, for everyone everything. This tune is more Pop market oriented.
Final tune is a Markus Enochson Remix of Sunshine. Obviously a dancefloor appetizer for potential buyers of André's album.
André de Lang's album awakens interest and the hope that he will develop his music on his next album more to the direction of his ballad-like style.
---
Gary Taylor - Under The Nightlight
Gary Taylor isn't an unknown for the music industry. Known as the "Master of the Quiet Storm," Gary Taylor played as a bassist sideman on several albums during the 1960s,'70s and '80s. He also wrotes for Anita Baker, All City, The Whispers, Vanessa Rubin, Grover Washington jr, The Controllers, Rebbie Jackson, Carl Anderson, Beau Williams, Mac Band, Chico DeBarge, Dazz Band, Joyce Kennedy, Prodigy, Vesta Williams, Marlena Shaw, Double Scale, Ray Parker jr. and Jennifer Holliday among others. He has released seven albums: GT, Compassion (1987), Take Control (1991), Square One (1993), The Mood Of Midnight (1995), Love Dance (1998) and Under the Nightlight (2001).
Gary tags his music as Adult Soul. "Songs written by Taylor have stood the test of time, and many years after they have been recorded, people can still apply the feeling to today's life," he comments.
And indeed his music has a special atmosphere many productions of nowadays are missing.
The Nightlight presents all experiences, Gary has collected in his musical career and one can hear his skills. Arrangement, instrumentation, interplay, all is in perfect harmony.
Gotta Be Of Way is another excellent ballade in the style of the great Luther Vandross, Marvin Gaye or Al B. Sure.
Restore My Faith lets the wonderful recitation continue. Keith Fiddmont adds his sentive sax solo to this masterwork.
Keep An Open Heart is the next slowtempo song. Gary perfectly accompanies his songs with shaded and aspirated organ and keyboards attacks.
Take Me Through is a more midtempo and rhythm emphatic tune.
About The Real keeps up the slowtempo mood of a melancholic love song. Anew one can hear Gary's contemplative and sentive vocals with this intimate timbre.
All Or Nothing At All features Lead Vocalist Vann Johnson in an awesome duet with Gary. A further highlight of this superb album.
How Was I To Know , Exotica and Flirting With An Angel are the further slowtempo tracks of this romantic album, which should be listened with your beloved woman.
The Nightlight is such a fantastic theme, that it is worth for an instrumental version and this is pure Smooth Jazz. Keith Fiddmont showcases his talents as an captivating sax player.
Under the nightlight is an album for the hours of the late evening, when the lights are dimmed and the time comes for moody sensitive feelings.
© HBH