Dima Geller - Walking Through The Digeltown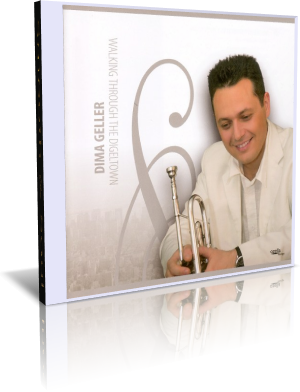 Dima Geller is a young trumpet player hailing from Mogilev, a small town in eastern Belarus, near the Russian border. After his family immigrated to Israel he studied music at the academy of Jerusalem and later in Germany. Dima is an ambivalent musician performing Pop, Soul, R&B, Fusion, Jazz Lounge and Smooth Jazz.
Dima played with Kent Nagano, Zubin Mehta, Claudio Abbado, Placido Domingo, Ramon Vargas, Rolando Villazon and many more. Since 2004 he gigs with the music-acrobatic-show Balagan and the Balagan band. His music is comparable with Chris Botti, Till Broenner or Rick Braun.
His debut album is entitled Walking Through The Digeltown (2008). Dima composed, arranged and produced all tunes with the exception of My Funny Valentine. He is joined by Viktoria Smotkin (vocals), Anke Lucks (trombone/brass section), Paul Milmeister (bass), Michael Joch (drums) and others.

Dima's fresh and edgy approach to smooth jazz is obvious. Walking Through The Digeltown sounds like a refurbished and unfamiliar mixture of disco beat, electronic synth in the style of Jan Hammer and smooth jazz. I must admit his trumpet performance is surprisingly brilliant and energetic.
My Sweet Lady offers a more mellow ballade with instrumental solos of Dima and Semion Barlas on guitar. Semion is a member of the Capital Dance Orchestra. The Orchestra belongs for many years now to the best of Berlin's big bands, with their live repertoire of over 200 numbers, remarkable arrangements of songs taken from old shellac records and first-class shows with guest stars.

The song Smart Aleck features Russian born singer Viktoria Smotkin from Omsk, since 1999 part of the Berlin music scene. She performs as a solo vocalist of the group Kafe-Moskva and was already engaged in several projects. A Pop song with strong Rock elements.
On Secret Affair Dima plays in the style of Herb Alpert. His clear and melodious performance creates a captivating atmosphere. Well arranged! The up-tempo Tell Me Why presents a more dynamic Dima following the heritage of European music of the 80's. Excellent Michael Buk's jazzy piano solo.
City Traffic is a noisy problem of our time. Dima shows the better side with his uplifting tune fusing elements of Shakatak and Jan Hammer.
Funny Valentine is a show tune from the 1937 Richard Rodgers and Lorenz Hart musical Babes in Arms. Hundreds of musicians like Chet Baker, Frank Sinatra or Miles Davis made the song to a jazz standard. Dima's rendition features singer Viktoria Smotkin and this version really smokes.
The airy Come Fly Away is music for dreaming on a sunny place with a cocktail of your choice. Something for the best hours of your life. Michael Buk delivers Spanish flavor on his acoustic guitar.
Instrumentals like Silver Rain reveal Dima's great talent as musician, composer, arranger and producer. Vladimir Karparov contributes a hot sax solo and duets with Dima's trumpet. Vladimir grew up in Bulgaria's capital, Sofia. He graduated in 2005 with a degree in saxophone at Berlin's Hochschule für Musik "Hanns Eisler" and fosters since this time the European and American jazz scene. In 2007 Karparov has released his first album Thracian Dance.
Viktoria Smotkin is also the featured singer on the Pop ballade Lonesome At Your Side. Compared to her qualities as a jazz singer the recommended direction to jazz is obvious. That is also recognizable on the next song Far Away. While Dima has an awesome bluesy style the more flat Disco beat cannot reach that level.
Melody, rhythm and arrangement are in total harmony again on Atlantis. Accompanied by a strings section Dima Geller presents his superior tones framed by synth flutes and acoustic guitar.
Dima Geller has a high potential as trumpet player and composer. I would like more influence of Urban or contemporary jazz. Perhaps on his next album?


Websites

Buy the album at

Title: Walking Through The Digeltown
Artist: Dima Geller
Year: 2009
Length: 0:50:04
Genre: Smooth Jazz
Label: Ozella Music


Tracks:

01 Walking Through The Digeltown [4:12]
02 My Sweet Lady [4:16]
03 Smart Aleck [3:13]
04 Secret Affair [4:23]
05 Tell Me Why [4:38]
06 City Traffic [4:22]
07 My Funny Valentine [3:34]
08 Come Fly Away [4:38]
09 Silver Rain [4:11]
10 Lonesome At Your Side [3:35]
11 Far Away [4:13]
12 Atlantis [4:49]