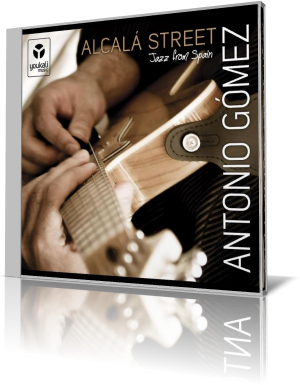 In the last weeks I had the focus on Spanish music with reviews about the albums of saxophonist Inaki Arakistain and guitarist Juan Carlos Mendoza. I finish this cycle with the album of Spanish guitarist Antonio Gómez Alcalá Street, Jazz from Spain (2015).
Haling from Almeria he studied his instrument in America and Spain. He started his musical career with Guitarra de Navidad, an album of Christmas songs in 1997. His second album Aires de Mar followed in 2007. Alcalá Street, Jazz from Spain is his third album.
These Spanish folk music arrangements are released on the label Youkali Music. Antonio comments꞉ "The title Alcalá Street refers to a musical walk through an imaginary Alcalá Street where Spanish folk melodies combine with rhythms and harmonies of other latitudes, as well as different styles, sounds and rhythms of jazz, funk, Latin and flamenco″.
Surprisingly, Antonio's way of playing on Con el Vito Va is more similar to Wes Montgomery, Pat Metheny or Larry Carlton than to the traditional Flamenco style we would usually associate Spanish guitarists. Alhambra City (Granada) reveals as a straight ahead jazz interpretation of Augustin Lara's popular song Granada.
José Serrano Simeón was a Spanish composer from Valencia, who wrote the pasodoble El Fallero. El Hombre Del Saragüell is inspired by this piece and also a tribute. Calle de Alcalá is the longest street in Madrid. Alcalá Street is Antonio's reflections of the vibrant life of this or even any street with magical radiation. With Choco Frank he salutes to Gustavo Pascual Falcó's Paquito el Chocolatero.
La Tarara is a popular song circle of Castilian origin. With Mi Tarara, Si Antonio builds the bridge to popular jazz style. The Concierto de Aranjuez is a composition for classical guitar and orchestra by the Spanish composer Joaquín Rodrigo. In the version played by Paco de Lucia this piece has reached world fame. Bulerias De Aranjuez is a free jazz improvisation, which is largely separated from the original theme.
Blues Del Emigrante reflects about the movie theme by Celtas Cortos. Romance Anónimo (Anonymous Romance) is a piece for guitar from the 19th century. Anonymous Waltz offers a view of the jazzy aspect of this piece.
Eviva España (alternatively Y Viva España) is a Belgian pop song, which became popular worldwide. Eviva Samba is typically transferred in the jazz realm in Antonio's style. Frente Al Café La Palma is his implementation of Suspiros De España by Antonio Álvarez Alonso.
Alcalá Street is the recommendation for all lovers of Spanish themes who want to perceive a different perspective on things.




Website


Buy the album in all stores

Album Information

Title: Alcalá Street
Artist: Antonio Gómez
Year: 2015
Length: 0:54:53
Genre: Fusion
Label: Youkali Music

Tracks:
01 Con El Vito Va (El Vito) [4:12]
02 Alhambra City (Granada) [4:43]
03 El Hombre Del Saragüell (El Fallero) [5:34]
04 Alcalá Street (Por La Calle De Alcalá) [5:15]
05 Choco Frank (Paquito El Chocolatero) [4:46]
06 Mi Tarara, Si (La Tarara) [7:15]
07 Bulerias De Aranjuez (Concierto De Aranjuez) [3:38]
08 Blues Del Emigrante (El Emigrante) [6:31]
09 Anonymous Waltz (Romance Anónimo) [6:08]
10 Eviva Samba (Eviva España) [3:08]
11 Frente Al Café La Palma (Suspiros De España) [3:45]