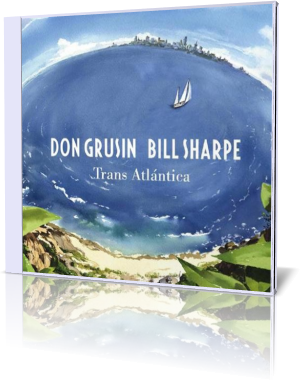 Grammy awarded American composer, producer, arranger and pianist Don Grusin has released in 35 years 20 CDs of his own, performing with the who is who of the jazz world.
Composer and pianist Bill Sharpe is a member of the famous UK group Shakatak. Bill's solo projects are Famous People (1985), State of the Heart (1998), Close To My Heart (2006) and Peace Of Mind (1999) with guitarist Fridrik Karlsson, member of Mezzoforte.
Sharpe met Grusin through his consultancy work for Technics keyboards. Grusin co-produced Sharpe's second solo album in Los Angeles. Their first collaboration as composers and musicians was the album Geography (2006). Trans Atlántica (2012) is the second collaboration of these two great keyboardists.
This album is available in Europe as a double-pack with Geography for a reasonable prize. Recorded in two years the album is supported by Elviz du Chez (flute), Miguel Barata (sax), Charlie Bisharat (violin), Derek Nash (sax), and singer Ashley Maher.
The piece enriched with lots of percussion is based on an exciting journey, Bill and Don completed with the underground in London. On The London Tube, the musicians have incorporated their diverse multicultural impressions.
Both collected during the passage through the city at night feelings and images, implemented in Exotic Boulevard. The musical spectrum ranges in the area of melodic jazz fusion with an overwhelming wealth of keyboard sounds.
Vocalist Ashley Maher has put her own stamp on Down At St Catherine's. Ostensibly, it is a song about a church that stands in London. Spiritual the song reflects her development and enormous affinity for African and Indian culture.
The idea of the artists over that region between Pakistan and Afghanistan, which currently realizes a military history is played onomatopoetically in War Zone. The piece has a perfect flow and the piano performance is out of this world. However the instrumental implementation of the locality reminds me of old Sinbad movies.
With Chance Encounters the musicians go through to the elegant part of the evening. A highlight of the sublime smooth jazz that has to compare favorably with Fourplay. Night Train to Paris is a musical internalization of a train ride from London to Paris. The atmosphere is strongly influenced by Charlie Bisharat's violin.
Un Vuelo means a flight and reminds of the many flights both artists had to take to record their ideas in the studios in London, L.A., and Bolder. The Spanish flavored tune runs successfully and autonomously with the fast paced rhythm. The keyboards of Grusin and Sharpe intertwine to a filigreed work that can withstand comparisons with the architectural decorations of the Alhambra.
They both love also gentle melodies as Slow Breeze, which is sensitive designed by saxophonist Derek Nash, who with his long-drawn tones sets the counterweight to the staccato of the keyboardists. Mole Trap Cool is according to the liner notes dedicated to a pub in the neighborhood near the lodge at Theydon Mount. It looks like that there is a lot going on.
With After Hours catches the duo that night atmosphere of relaxation perhaps starting a lullaby for adults. Mira Monte is a small town north of L.A., which just offers spectacular sunsets and panorama. You have to visit this venue to love it like this music.
On Dirty Boy, a song about the young generation of gangsters running out of control of law and education, both showcase adventurous music using classic patches of their modern keyboards. Take Out The Trash is the final tune with an ironic title. More than a clean-up of the studios this is an essential finale.
Don Grusin & Bill Sharpe's project Trans Atlántica is a masterpiece of contemporary keyboard music with an exquisite arrangement and virtuoso performance enriched by the knowledge of two experienced musicians who pleasurably live out their penchant for perfectionism.




Biography
- Grusin
- Sharpe

Website


Buy the album in all stores

Album Information

Title: Trans Atlántica
Artist: Don Grusin & Bill Sharpe
Year: 2012
Length: 0:57:38
Genre: General Jazz
Label: Secret Records


Tracks:

01 The London Tube [4:25]
02 Exotic Boulevard [3:44]
03 Down At St Catherine's [4:33]
04 War Zone [3:39]
05 Chance Encounters [4:02]
06 Night Train to Paris [6:01]
07 Un Vuelo [4:44]
08 Slow Breeze [4:47]
09 Mole Trap Cool [3:49]
10 After Hours [5:17]
11 Mira Monte [4:20]
12 Dirty Boy [4:47]
13 Take Out The Trash [3:30]