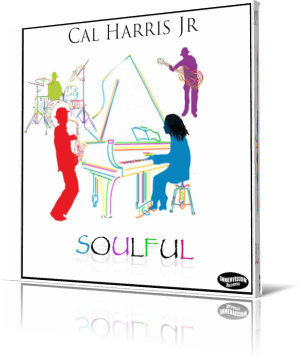 The cadre forge of smooth jazz Innervision Records presents high talented keyboardist and composer Cal Harris Jr. with the new project Soulful (2019).
This is the third album after his highly acclaimed albums Inside Out (2010), and Shelter Island (2018). Cal Harris Jr. is well known as keyboardist of such luminaries as Earth Wind and Fire, Lenny Kravitz, Prince, Whitney Houston, and Beyoncé.
The album starter Airborne shines with remarkable lightness, rhythmically perfectly arranged the theme follows its groovy path. Cal glides over the keys of keyboards and piano with great finesse.
Does magic lie in hypnotic repetition or in free improvisation? Timeline does not answer this question, because Cal offers both. Closer is a soothing derivative from the musical witch kitchen of our maestro.
Grown Folks Business takes the flow into the center of the action, while the rich details increase the attraction of the composition. Nocturnal is inspired by a nightly mood, in which noises and sounds gain in importance. Oscar Brashear perfectly contributes to the atmosphere on muted trumpet.
The Neighborhood offers a musical delicacy by keyboardist Jeff Lorber, a mid-tempo funk laden tune with some anointed horn stylings. Endless Summer allures with a mellifluous piano melody supported by a strongly accentuated bass.
You can't resist The Touch, finely chased piano performance. Soulful has an ambient urban vibe and a hooky melody. Definitely designed for radio programmers and elite listeners. The romantic Bella Nova features saxophonist Ted Belledin. Cal Harris Jr. has an exquisite talent for performance and composition, and for the selection of the right musicians.
Cal Harris Jr.'s rapture for attractive compositions runs like a red thread through the whole album. Sometimes you should not invest in gold or stocks but in good music. You can't go wrong with Soulful.




Buy the album in all stores

Album Information

Title: Soulful
Artist: Cal Harris Jr.
Year: 2019
Genre: Smooth Jazz
Label: Innervision Records

1 Airborne 4:00
2 Timeline 4:07
3 Closer 5:00
4 Grown Folks Business 4:38
5 Nocturnal (feat. Oscar Brashear) 2:27
6 The Neighborhood (feat. Jeff Lorber) 4:13
7 Endless Summer 3:40
8 The Touch 4:37
9 Soulful 4:00
10 Bella Nova (feat. Ted Belledin) 4:36
11 The Touch (Remix) 4:07




Further review:


Inside Out