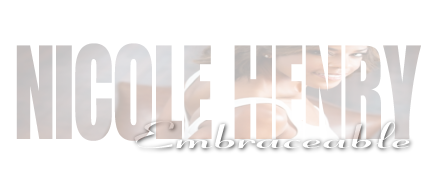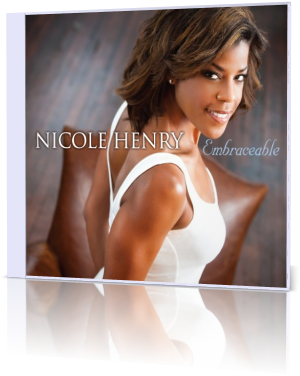 Nicole Henry combines amazing beauty with blissful talent. The Nearness of You (2004) was Nicole's first tribute to vocal jazz. Teach Me Tonight (2005) was her second approach to this genre. Both albums received high acclaims especially in Japan. The Very Thought of You (2008) already reached a top position on the U.S. Billboard Jazz Chart. Set for the Season: Live in Japan (2010) was her next triumph.
With the release of her fifth album Embraceable on August 23rd, 2011 Nicole Henry fosters her audience worldwide with caressing grace. The record is produced by Grammy nominated artist Matt Pierson, joined by 20 further musicians, among them saxophonist Kirk Whalum, guitarists Julian Lage, Jef Lee Johnson and Larry Campbell, Gerald Clayton (piano), Shedrick Mitchell (organ), Gregoire Maret (harmonica), Larry Grenadier (bass), Eric Harland (drums), Bashiri Johnson (percussion), and Gil Goldstein (piano).
"The creation of Embraceable afforded me a wonderful opportunity to challenge myself to grow musically, personally and professionally. I wanted to take a larger step in a new direction. And we know change is often met with resistance – even when it is self-initiated. Embraceable reflects a process of letting go and getting out of my own way. It's about being open, honest and communicative. There were a lot of new things and new people to trust, which has always been the hardest thing for me, and I had to trust and listen to myself. I had to be forgiving, willing and loving. Most importantly, I had to not only accept all of what I was going through, but I had to love and embrace it," explained Henry.
Henry kicks off with Just A Little Lovin', a classic song originally sung by Ike and Tina Turner on the album The Hunter (1969) and often copied by artists like Carmen Rae, Dusty Springfield and many more. This interpretation offers Henry's lovely vocals and Gregoire Maret's emotional harmonica performance in brilliant harmony.
The little jazz gem Like Someone In Love shines with Larry Grenadier on upright bass and a guitar in the style of Django Reinhardt. Nicole's divine voice is just adorable. Talking about wedding songs we should not forget the heartfelt Anything For You, a rendition of the soulful ballad from gospel/R&B artist John Stoddart.
The blues ballad and jazz standard Since I Fell for You was composed by Buddy Johnson. After Barbara Streisand sets Nicole Henry a new vocal landmark. Richard M. Jones' blues standard Trouble In Mind is well refurbished in a delightful rendition.
British jazz-pop singer and songwriter Oli Rockberger penned Hush Now in 2005. Impressed by this emotive piano player Nicole Henry creates her own lyrical interpretation. Bob Marley's Waiting In Vain from his album Exodus (1977) already found Annie Lennox's interest on her album Medusa (1995). Now here is a good alternative.
Nicole sings George Gershwin's jazz classic Embraceable You with the same admirable emphatic as Oletta Adams, Ella Fitzgerald or Liza Minelli. A Day In The Life Of A Fool or Morning of Carnival by Brazilian composers Luiz Bonfá and Antonio Maria is certainly a very popular jazz standard. Henry interprets the song with great respect for the original.
Even While You're Gone is another love song of the remarkable singer John Stoddart. Nobody can surpass Henry's vocal passion. The gospel A Little Time Alone is a collaboration with John and Doug Emery featuring sax legend Kirk Whalum. Henry and Whalum, a highlight of music history. With Save Me From Myself Henry showcases, that she can even outstandingly well improve Christina Aguilera's song.
Nicole Henry's Embraceable is an impressive artistic statement of an astonishing vocal talent. This lady inhabitates the songs like the divine Ella Fitzgerald.




Buy the album

Album Information

Title: Embraceable
Artist: Nicole Henry
Year: 2011
Length: 0:55:46
Genre: General Jazz
Label: ArtistShare

Tracks:

01 Just A Little Lovin" [3:33]
02 Like Someone In Love [4:18]
03 Anything For You [4:00]
04 Since I Fell For You [4:51]
05 Trouble In Mind [4:13]
06 Hush Now [4:55]
07 Waiting In Vain [4:51]
08 Embraceable You [3:50]
09 A Day In The Life Of A Fool [4:33]
10 Even While You're Gone [5:39]
11 A Little Time Alone [6:28]
12 Save Me From Myself [4:35]