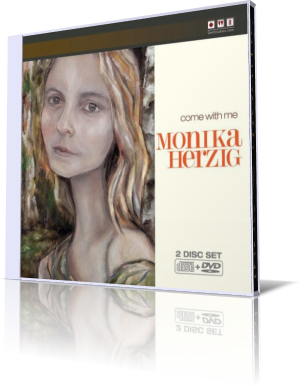 German-born pianist, composer and artist Monika Herzig moved to the United States in August 1988. After completing her Doctorate in Music Education and Jazz Studies at Indiana University, she is now a faculty member of this institution.
Monika is a very active musician. She already released the albums Melody Without Words, Melody with Harmony, In Your Own Sweet Voice - A Tribute to Women Composers, What Have You Gone and Done?,
Imagine - Indiana in Music and Words and Peace on Earth.

Come With Me is her newest album, released on Owl Studios in March, 2011. The album is enriched with a DVD documentary presenting some personal sides of this jazz pianist. The album was recorded with Peter Kienle (guitar), Tom Clark (sax, flute), Carolyn Dutton (violin), Joe Galvin (percussion), Kenny Phelps (drums), Frank Smith (bass) and Steve Davis (drums).
With subtlety Monika Herzig approaches the first theme The Pianists Say. She expands the complex melody structure into jamming excursions combing different elements of jazz.
On Come With Me Monika Herzig seamlessly bridges the gap between a romantic melody and jazz improvisation by interweaving both sides into one composition. Inside the album one finds a poem of Norbert Krapf, which describes in words the intended emotional expression of the musical piece.
Olé is an old Spanish expression used to cheer and applaud as part of flamenco music. The title perfectly sums up the elegance and dynamic of the tune. Carolyn Dutton (violin) and Monika excel on this mixture of salsa, flamenco and all goodies of Latin music.
Bob Dylan wrote the song Blowing In The Wind for his album The Freewheelin' Bob Dylan (1963). Blowin' in the Wind has been covered by hundreds of artists, but certainly has Monika's rendition a special place and earns the prize for jazzy interpretation.
On Italian Taxi Ride displays Monika's experience during a high speed drive through small Roman alleys. Superb how the musicians cites many musical themes in the course of the performance.
Cole Porter wrote the song What Is This Thing Called Love for his show Wake Up and Dream in 1928. Carolyn Dutton takes the lead on violin on this Latin enhanced version. Heavy Burden is Monika's return to her days of the BeebleBox recordings, fusion jazz at its best.
Paul Simon's Still Crazy After All These Years is also Monika's motto. Share her journey. Paradise On Ice is Monika's musical impression of a previous dream vacation in the Panorama Ski Resort in B.C., Canada. Fascinating Peter Kienle's guitar solo. The album ends with a solo piano rendition of Hoagy Carmichael's Georgia, contemplative and elegant.
Monika Herzig's Come With Me is highly recommended to anyone building a great library of jazz music. She embodies many different styles of jazz for your outmost pleasure.




Website


Buy the album in all stores

Album Information

Title: Come With Me
Artist: Monika Herzig
Year: 2011
Length: 0:59:05
Genre: General Jazz
Label: Owl Studios


Tracks:

01 The Pianists Say [7:41]
02 Come With Me [3:58]
03 Olé [5:18]
04 Blowing In The Wind [5:01]
05 Italian Taxi Ride [5:24]
06 What Is This Thing Called Love [7:32]
07 Heavy Burden [8:05]
08 Still Crazy After All These Years [6:04]
09 Paradise On Ice [5:25]
10 Georgia [4:38]


Further review: