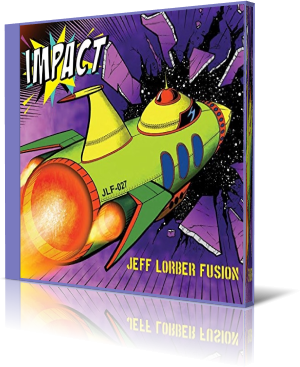 After Jeff Lorber has achieved nearly everything in his solo career, the win of a GRAMMY for his Jeff Lorber Fusion recording Prototype in the category of Best Contemporary Instrumental Album was the ultimate acknowledgement of his music.
At the same time this was an incentive to make the next album even better. Keyboard wizard Lorber called again his friends Jimmy Haslip (bass) and Andy Snitzer (sax) to create the new project Impact (2018).
Of course, Lorber also relies on well-known professional musicians from his close circle such as drummers Gary Novak and John Roberts, guitarists Paul Jackson Jr., Michael Thompson and Adam Hawley, and horn specialist David Mann. A concept that has also carried his previous releases.
Sport Coat Makes Good stands under a funky star. Paul Jackson Jr. delivers his appropriate signature rhythm guitar who beats in the tact of the Funk. Lorber conjures on piano and later on Rhodes like no other can. Finally David Mann and Andy Snitzer add their punchy blows.
Pasadena City sets first bassist Jimmy Haslip in the limelight before the others round up the theme. All ends in a festivity of the horn section. A synth bass defines the dynamically fast beat of Citizenship, which provides the wonderful setting in which the formation can brilliantly shine.
Highline fosters in the realm of syncopated horn grooves. Andy Snitzer takes the room with ambitious blows. Between David Mann's horn arrangement is enough place for Lorber's and Snitzer's solos. Opt In doesn't leave it at virtuoso excursions of jazz fusion art but builds up a melodic bow that will delight friends of smooth jazz. The band even deepens the melodic range with the following Quest.
Sunny Sounds is Lorber's promise kept. Also here he is not stingy with his stunning piano runs, which are elegantly bridged with David Mann's wonderful horn arrangements. Companion opens the sky and Lorber's going full throttle on synth bass. This par force ride awakens the spirits with Minimoog and horn inserts.
If anyone has discovered the ideal way to reconcile melody with jazz, it is Jeff Lorber. With Arda and Valinor the lover of harmony will also find access to jazz.
You certainly can't call Jeff Lorber a jazz purist. Although he was influenced by musicians like Weather Report, Herbie Hancock or Chick Corea, he has always looked for his own way to combine jazz with other music styles. So you can find only a few songs on his albums with a stringent focus on bebop or pure jazz fusion. Perhaps the secret of his success lies in the fact that he has seldom ignored harmonic structures.
Having said that, his album Impact turns out to be the ideal of fusion, as Jeff Lorber likes to see him today.




Buy the album in all stores

Album Information

Title: Impact
Artist: Jeff Lorber Fusion
Year: 2018
Genre: Jazz Fusion
Label: Shanachie Entertainment

1 Sport Coat Makes Good 4:38
2 Pasadena City 4:26
3 Citizenship 4:44
4 Highline 4:33
5 Opt In 4:44
6 Quest 5:21
7 Sunny Sounds 4:24
8 Companion 4:51
9 Arda 4:01
10 Valinor 4:25



Further reviews:


Prototype