Kevin Peter Jones Magnetic Journey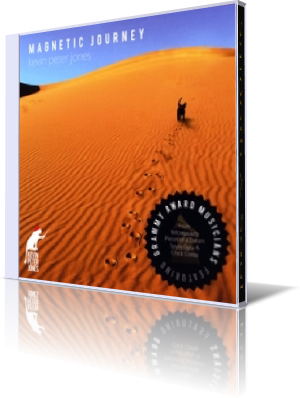 Drummer Kevin Peter Jones can look back on an excellent education. During his time at Elk Grove High School he met world renowned jazz drummers Gene Krupa and Buddy Rich. Although trained as jet engine technician, flight engineer and pilot in the US Air Force his affinity for music never faded away.
He performed with The Yellowjackets, Bernard Wight,Wayman Tisdale, Will Kennedy and met the artists David Weckl, John Patitucci, Russell Ferrante, Jimmy Haslip, Sado Watanabe, Chick Correa and Steve Smith.
Kevin has just finished his debut album Magnetic Journey (2009). To make it special he invited top-notch artists like Eddie Baccus, Jr., Russell Ferrante, Jimmy Haslip, Eric Marienthal, Scott Ambush, and Mike Miller.
After the first notes of Modaji the listener already knows, that Kevin has created something exquisite with a great love to the detail. Dave Grusin composed this tune for Harvey Mason's album Marching In The Street (1976) and published it one year later on his own record One Of A Kind. The rendition is a little slower than the original, but there is enough space for Eddie Baccus' saxophone solo. Russell Ferrante delivers the retro feeling with his superb performance on Rhodes.
Russell's Gumshoe continues this elegant style, which reminisces of the ancient jazz times and reminds of movies like Casablanca and the music of George Gershwin. Keyboardist Russell Ferrante is one of the founders of the legendary contemporary jazz group Yellowjackets and certainly one of the most prolific composers of this genre.
He reveals his melodious vein with Katie presenting the edgy guitar sound of Mike Miller and the surprising mellow Eric Marienthal, who expands the melody line to a short solo with an improvisational intonation.
At All Music Guide Magnetic Journey is categorized as Rock/Pop. Not completely of the mark, when you listen to Goin' Down Slow showcasing Mike Miller in a Rock attitude and Eric Marienthal in the role of an energetic sax player, as we all know him by his shows.
Country music on a contemporary jazz album? Big Country (West Coast) was originally composed by Bela Fleck and released on the album of the Fleckstones Left of Cool (1998). Jazz is even in Country music, it's just a question of the standpoint and interpretation. Jimmy Haslip's short bass solo is worth a second listen.
With Doggie Determination Mike Miller presents his own composition surprisingly settled in a more contemplative area. Russell Ferrante brings back some velocity with Flat Top. A dynamic tune propelled by Kevin Peter Jones' drums featuring Eric Marienthal on lead sax.
Piece of Cake is a delicious appealing melody originally composed by GRAMMY-winner Michel Camilo on his album Triangulo (2002). The original version can be downloaded on Michel's website. Russell Ferrante on piano and Eric Marienthal on soprano sax are the highlights of this rendition. Mike Miller shines like Carlos Santana.
The second song of Michel Camilo Twilight Glow taken from his album Live at The Blue Note (2003) has a warm and intimate character and offers a delicacy for jazz piano fans. The rendition totally changed the style of the original which certainly is a result of the engaged musicians and their instruments.
Can't We Elope showcases Eric Marienthal's skills in their full range. His contribution for this album is unequivocally impressing. But the master of the class is certainly composer and pianist Russell Ferrante.
When Dave Weckl released his album Rhythm of the Soul (1998) he garnered high acclaims of fans and critics alike. The Zone is one of these fiery tunes between all categories of music flawlessly revitalized on this album.
Matinee Idol completes this album with Russell Ferrante's supreme performance on Rhodes. Eddie Baccus Jr. interacts with Russell's play with sparkling notes on sax.
Magnetic Journey is Kevin Peter Jones' personal dream come true. A high-level contemporary jazz album without limitations and compromises. L'art pour l'art.




Album Information

Title: Magnetic Journey
Artist: Kevin Peter Jones
Year: 2009
Length: 1:12:07
Genre: General Jazz
Label: Sakestyke Entertainment


Tracks:

01 Modaji [6:34]
02 Gumshoe [5:12]
03 Katie [5:43]
04 Going Down Slow [5:54]
05 Big Country (West Coast) [6:33]
06 Doggie Determination [4:48]
07 Flat Top [7:03]
08 Piece of Cake [6:13]
09 Twilight Glow [5:39]
10 Can't We Elope [6:24]
11 The Zone [5:46]
12 Matinee Idol [6:17]