Gregg Karukas - GK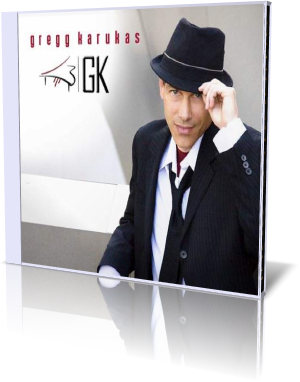 The best way to recognize the popularity of a musician is to read his tour schedule. Gregg Karukas is undeniable one of the busiest artists of the smooth jazz genre. His tight current schedule sees him this year with Rick Braun, Earl Klugh, Peter White, Richard Smith, Greg Adams, Michael Paulo. Brian Bromberg and many other stars of the contemporary jazz scene.
"I think we all need music to be the soundtrack to our soul," Gregg comments. "It can inspire us, balance out our lives and relieve stress. I appreciate that and I treat each CD or concert as another opportunity to connect to those sounds and emotions on a deeper level. I love sharing that with others and try to make each project a special event all its own."
That motto in mind we approach Gregg's new album GK with a positive mentality. On his album romp artists like Michael O'Neill (guitar), Luis Conte (percussion), Oscar Seaton (drums) and a huge bunch of other well-known cats of the scene.
The first tune Manhattan is more a creator of an atmospheric mood. Exactly the temper of a big city relaxing after a busy day in the cafés, pubs or bars. When the Daylight breaks through the clouds and Gregg tingles with ease his piano keys, then your face brightens and you might ask for the name of the sensuous sax player who is contractually anonymous.
On Napa Road Rick Braun shines on his specialty, the flugelhorn. Gregg's brilliant piano performance is also supported by the excellent horn section, Lee Thornberg (trumpet), Rick Rossi (sax) and Jacques Vovement (trombone). Coolness is Floating In Bahia when Rick blows the muted trumpet. Ricardo Silveira adds some Spanish flavor on nylon guitar. By the way Luis Conte's percussion play is superb.
Wildwood is straight going forward. Pushed by Oscar Seaton's drumming Michael Paulo's sax and Gregg's piano performance kicks ass. When it goes into the romantic valley then should Walkin' In Time be your companion.
On Soul Kisses Gregg shows more of his elegant piano art, we cannot get enough. On the spicy Jamba Samba the group stretches out to a big jam session. Seaton, Conte, Silveira each of his own a master of his instrument deliver the perfect Latin essence.
Mesa Moon continues the Latin spirit in a mesmerizing way. Coyote Party is great stuff for live jams. The fun of all musicians is noticeable. Sitting on the beach listening to the breakers, have a good conversation, drinking a glass of wine. This moment of happiness is captured in the beautiful Believe In Me.
I would take my hat off for Gregg's new work, if I would own one. So I applause instead. Gregg, we know what we have on you. Please an encore.



Gregg Karukas - Website


Buy the album

Further Reviews


Album Information
Title: GK
Artist: Gregg Karukas
Year: 2009
Length: 0:56:06
Genre: Smooth Jazz
Label: Trippin' N Rhythm Records


Tracks:

01 Manhattan [4:46]
02 Daylight [4:20]
03 Napa Road [5:28]
04 Floating In Bahia [4:48]
05 Wildwood [5:28]
06 Walkin' In Time [4:55]
07 Soul Kisses [4:25]
08 Jamba Samba [6:12]
09 Mesa Moon [5:19]
10 Coyote Party [4:54]
11 Believe In Me [5:31]