Brian Kelly - Afterplay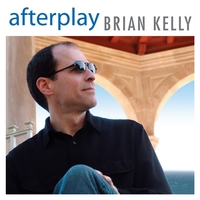 San Francisco Bay Area resident Brian Kelly started his career as solo artist in 2005 with his debut album Pools of Light, on his own Skylight Music label. Receiving rave reviews he was soon encouraged to release his sophomore album Afterplay (2008). He is supported by Eric Crystal on sax (Boz Scaggs, Omar Sosa), David Rokeach on drums (Aretha Franklin, Ray Charles), Viviana Guzman on flute, James Robinson on guitar, and other fine musicians.
Brian is proud to be one of those contemporary musicians who blurs the line between smooth jazz and new age since his tunes range from upbeat jazz-band hum-along to occasional softer and more reflective pieces. "I don't mind being a bit eclectic," states Brian. "Art is a language of contrasts, and as a musical artist I want to paint with a full spectrum of emotional colour - joy, playfulness, tenderness, longing ..."
Brian performs some onomatopoeia on the first tune River Rush. He is moving the scales up and down on the piano, while the tone is fading away and coming again. Brian describes it as a song capturing the sparkling momentum of a river flowing over rocks.
Smiling South has its own dynamic. The energetic piano style reminds be of Bruce Hornsby's music. The piano play is accompanied by propulsive percussions sounds of African And South American provenance.
New Vision features Viviana Guzman on flute. The captivating tune performs a tightrope walk between New Age and Smooth Jazz. It's the right time for Snowflakes Rising. Brian lets the tones drop like a musical box.
The mysterious Flavor Seven has an atmospheric flow and in contrast to this part an improvisational side. Brian Kelly showcases his master ship on the keys. The clear melody line of Afterplay is interpreted on Brian's piano and pronounced by Eric Crystal on sax. A keyboard loop serves as rhythmical element.

With Heaven On Earth Brian follows the path to New Age soundscape. Elegant piano runs are improved with flute melodies. Celtic Fire is jazzy enhanced world music. The influence of Emerson, Lake & Palmer's epic sound structure is noticeable.
Stone Shine features guitar genius James Robinson. Brian comments: "My approach with the new album was to bring the production and musicianship to a higher level of excellence by working with world-class musicians and engineers, and to compose music that would be exciting and fun to play live." A good example for this mentioned collaboration is Stone Shine.
With the dreamy Reach For The Stars Brian explores space and time. Brian shows up the standards of today's electronic music without loosing the emotion. In the centre of the melodious Sunchaser stands James Robinson's performance on acoustic guitar. For those who like his style, I recommend his acoustic guitar album Colours which ranges from Latin and Brazilian to Middle Eastern, jazz and more straightforward pop.
"With my music, I hope to achieve a balance between inspiration and craft; between composing and improvising, " explains Brian. With a loud applause I can state: "Mission completed".




Title: Afterplay
Artist: Brian Kelly
Year: 2008
Length: 0:49:13
Genre: General Jazz
Label: Brian Stephen Kelly


Tracks:
01 River Rush [5:15]
02 Smiling South [4:22]
03 New Vision [4:44]
04 Snowflakes Rising [3:31]
05 Flavor Seven [4:46]
06 Afterplay [4:44]
07 Heaven On Earth [4:39]
08 Celtic Fire [3:41]
09 Stone Shine [5:05]
10 Reach For The Stars [4:53]
11 Sunchaser [3:32]