Kloud 9 - Enjoy The Ride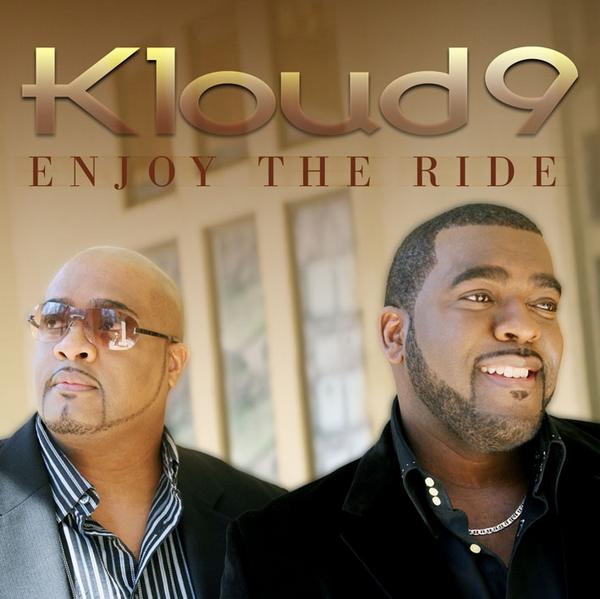 Kloud 9 are the brothers Kelvis and Kendall Duffie. Both started their career as part of a contemporary gospel group touring worldwide. Later they were working in the music industry being involved in radio promotions, artist development and production. Nevertheless they had a strong desire to make music themselves. So it was a naturally act, that they released in 1999 their first tune Soul Stepp'n on a compilation of Expansion Records.
Their debut album On Kloud 9 was released in December 2001 on this label. The album project is joined by top artists like Karen Bernod and Jean Paul "Bluey" Maunik (Incognito). In 2005 they released their sophomore album Yearning 2 Love on Expansion Records in UK. The group was supported again by Bluey with strong guitar sequences. On this album also appears legendary Kirk Whalum. Kirk said about his collaboration with the Duffie-Brothers: "... having just returned from England this week, I'm all too aware of the wide swath that the soulful sound of Kloud 9 has already cut in the world of 'in-the-know' music fans in the UK. I can't wait for the U.S. to be on the same page and get hip to Kloud 9!"
And indeed Kirk's wish came true. In 2007 Yearning 2 Love was released on Koch Records in the U.S. music market. Kendall Duffie comments: "To finally have our music heard in the States is what I've worked towards my entire life, I was born to make music, and after spending a few years building my chops overseas, I am glad the time has come to bring our brand of soul music back home."

Kloud 9's new album Enjoy The Ride (2008) is just released on Expansion Records. The signature sound of the Duffie twins is the brilliant choral harmony as to shown on Everything That I Need. The smooth impression of their mellow vocals is intensified through the intensive use of falsetto.
Appreciation is a big word for the brothers. The role of the woman is important and the recognition of her work and efforts. Tom Hemby on guitar and Mel Brown on bass are accompanying Kloud 9's interpretation.
Never Give It Up is dedicated to Stevie Wonder. Kendall Duffie: "Stevie Wonder if you ever hear the song, just know that you have inspired the very core of my musical being. You are everything melodic, everything musical, everything lyrical and all things soulful! The song was musically inspired by you." It's only naturally that Jimmy Hall plays the harmonica on this tune in the style of Stevie Wonder.

All That Matters features sax player Donald Hayes. Donald is versatile in playing Gospel music, R&B and jazz. Reflections Vol. 2 and Quiet Times Vol. 2 are his own solo projects. Donald is known by his performance with legends like Stevie Wonder and John P. Kee.
Grateful has an awesome horn arrangement by Lloyd Barry which reminds of the music of Incognito. The horn formation consists of Vinnie Ciesilski (trumpet), Barry Green (trombone), Jimmy Bowland (alto ad baritone sax). Kendall Duffie is an excellent keyboardist who ingeniously weaves sounds of synths, moog bass and clavinet into the vocal recitation.
Complaining about the crazy world and the politicians never representing their struggle Kloud 9 find the escape on the dance floor. Step by step we forget our worries, for a certain time.
Love's Just Better With You sing the charmers and crooners Kelvis and Kendall. The song has a hypnotic up-tempo beat what makes the song very danceable. Dwayne Walker is responsible for the keyboards and synth doing a good job. Dwayne also performed on Kloud 9's second album.
Can't Hold This Love is featuring female singer Tamara Jones. Her attractive vocals can also be heard on albums of Rhonda Smith, Glenn Jones and more. Tamara is also member of the group New Memphis Underground.
The longing of a lonely man finds its expression in I'm Calling You. Great vocals and mesmerizing harmonies! Tom Hemby adds gracious guitar riffs. In the centre of most songs like To Have Your Love stands the relationship between man and woman.
The title song Enjoy The Ride features flutist Althea Rene. She has an incredible touch. She recently released her fourth album No Restrictions, a collaboration with Grammy-winning producer Michael Broening. Duffie's Theme was written in loving memory of Curtis Duffie. It's the only instrumental on this album showcasing more of Kendall Duffie's indisputable talent on keys.
Love's Better With You (The Realm Vocal Mix) is finishing the album. The remix was made by Toni Economides and Oli Lazarus. An up-tempo and propulsive tune, just made for the dance floor.
With Enjoy The Ride Kloud 9 fulfills the dreams of all Soul fans worldwide. We don't talk about reputation and awards but the ultimate pleasure for all listeners.




Title: Enjoy The Ride
Artist: Kloud 9
Year: 2008
Length: 1:03:00
Genre: General R&B
Label: Expansion Records


Tracks:

01 Everything That I Need [4:56]
02 Appreciation [4:22]
03 Never Give It Up [5:47]
04 All That Matters [4:42]
05 Grateful [4:02]
06 Step [4:18]
07 Love's Just Better With You [3:59]
08 Can't Hold This Love Featuring Tamara Jones [4:28]
09 I'm Calling You [4:59]
10 To Have Your Love [4:45]
11 Enjoy The Ride [5:07]
12 Duffie's Theme (In Loving Memory Of Curtis Duffie) [4:34]
13 Love's Better With You (The Realm Vocal Mix) [7:01]