Le Kat Boudoir Rouge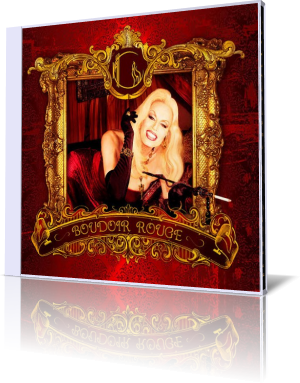 ...And God Created Woman.

Glamorous chanteuse Le Kat likes the lascivious pose. Pleasurably she lays in her Boudoir Rouge. Is the alluring sensuality of a platinum blonde siren a deciding factor to listen to an album?
Le Kat opens the room to her intimate red-colored bedroom. Are we curious? Le Kat's idols are the likes of Josephine Baker, Cab Calloway, Cole Porter and Marlene Dietrich.
Le Kat's debut album is entitled Boudoir Rouge. She wrote several of the songs. Supported by the musicians Tabanou on guitar and keyboards, Aaron Kaplan on guitar, banjo and mandolin, bassist Brett Simons, Doug Webb on saxophone and clarinet, trumpeter Larry Williams, David Langlois on percussion and washboard, pianist Jimmy Levine and drummer Mark David she performs on a high level of professionalism.
With the charming voice in the style of Marilyn Monroe presents Le Kat Best That I Ever Had, a song penned by guitarist and composer Aaron Kaplan. The French flair is nicely added by Cisco Deluna's accordion.
I Need A Man was originally composed by Eurythmics for their sixth album Savage (1987). Le Kat interprets the Rock song in a more jazzy way with great intonation. Shirley Bassey's Big Spender might be the force behind this interpretation.
Le Kat doesn't need to hide behind these covers. Her own composition More is just brilliant. Stewart Cole's trumpet is out of this world. Talk To Me is a praise of the phone, Mr. Alexander Graham Bell's invention and the possibilities its offers.
Mista Twista knocks me out of the feet. Electricity pure. Esthero's song Wikked Lil Girrrls finds a jazzy "Pimp My Ride" by Le Kat's genius rendition. With the spherical song Coming Home Le Kat reveals her potential as ballad songstress.
Hanky Panky, a song from the soundtrack album I'm Breathless composed and performed by Madonna, is slowed down in this version. Ballades like the longing Desire, the self-confident Bigger Than The Both Of Us or the critical River show Le Kat's real strength, her fantastic skills as composer and singer.
An ode to winter or the night? Blue Man the alternative color to love? On the timeless Keep Young And Beautiful, a song by Al Dubin (lyrics) and Harry Warren (music), Le Kat takes the ironic play ball. What's cute about a little cutie, it's her beauty, not brain.
Final song on Le Kat's album is Lady In Lavender, inspired by the show Phantasm, in which Le Kat played a prominent role at many horror conventions. A figure of imagination beyond your thoughts.
Le Kat's Boudoir Rouge is a special work of art. A shimmering world of indecency with its own attractiveness. Loathsome, awesome, genius.




Album Information

Title: Boudoir Rouge
Artist: Le Kat
Year: 2009
Length: 0:53:58
Genre: Vocal Jazz
Label: Le Kat Music


Tracks:

01 Best That I Ever Had [4:33]
02 I Need A Man [3:47]
03 More [4:01]
04 Talk To Me [2:26]
05 Mista Twista [4:01]
06 Wikked Lil Girrrls [4:30]
07 Coming Home [3:05]
08 Hanky Panky [4:51]
09 Desire [4:21]
10 Bigger Than The Both Of Us [3:19]
11 River [2:42]
12 Blue Man [3:34]
13 Keep Young And Beautiful [3:54]
14 Lady In Lavender (Bonus) [4:53]