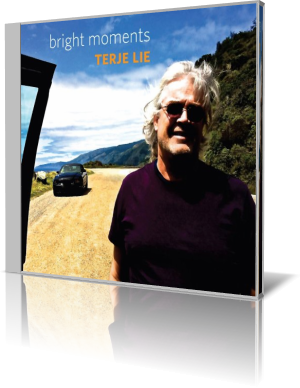 Norwegian born saxophonist Terje Lie found his cultural home in L.A., where he is performing in clubs and at festivals and concerts throughout the West Coast.
He started his solo career with the album Traveler (2007) featuring jazz fusion legends Jimmy Haslip and Jeff Lorber. He continued this collaboration on his sophomore album Urban Vacation (2010) and now on his new album Bright Moments.
On selected tracks he is furthermore supported by a cast of premium musicians listed below. To warm up Storm Skies starts with Jeff Lorber's known chords in the style of Rain Dance. But then the piece develops a life of its own, as if the inner fire of the involved musicians awakens.
On Big Surf guitarist Michael Landau shows himself in prime shape. Bright Moments is embedded in a taut rhythm corset, which Terje breaks up with his saxophone performance widely using reverberation effects.
Daybreak is Lorber's song. Here he runs free on his Rhodes. Sometimes melodies as You Know appear predictable. But these high professional musicians make of this minimal sequence of notes an appealing work. Islands have something of isolation, at the same time due to their remoteness also the preservation of paradise. So the musicians are abandoning their melodic shackles to free interplay.
On A Special Thing Lorber experiments with different sounds of his keyboard park always serving the overall concept of the piece. Santa Anas is Haslip's finest hour, leading his bass in the foreground. Is my guess presumptuous, if I count Pancakes to Terje's favorite food? This piece is baked with so much love. Finally, contemporary jazz has established itself on this album with Jungle. With the Hammond B3, the scratchy guitar and Terje's sax the band goes like a train.
Terje had so much fun during the recording of the album that the sale will purely be a minor matter. All joking aside! This album has the potential for a money spinner. Contemporary jazz enthusiasts grab it!




Buy the album in all stores

Album Information

Title: Bright Moments
Artist: Terje Lie
Year: 2014
Length: 0:45:21
Genre: General Easy Listening
Label: TCat Records


Tracks:
01 Storm Skies [4:14]
02 Big Surf [5:14]
03 Bright Moments [3:58]
04 Daybreak [5:31]
05 You Know [4:09]
06 Islands [4:13]
07 A Special Thing [4:30]
08 Santa Anas [4:49]
09 Pancakes [4:30]
10 Jungle [4:14]






Further review

Terje Lie: Soprano, Alto Tenor Saxophone, Trumpet; Jeff Lorber: Keyboards, Guitar; Jimmy Haslip: Electric Bass and Percussion; Tony Moore: Drums (except 3 & 4).

Additional Musicians: Michael Landau: Guitar (2, 6, 10); Marlon McClain: Guitar (9); Jeff Richman: Guitar (1); Michael Thompson: El. & Acoustic Guitar (3); Lenny Castro: Percussion (3 & 7); Vinnie Colaiuta: Drums (4); Gary Novak: Drums (3).