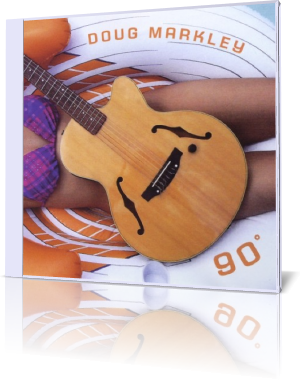 Hailing from Philadelphia Doug Markley has performed since more than 28 years throughout the Unites States. Diverse in styles in his core he is a true jazz guitarist.
Doug can look back on an amazing gallery of releases. The Markley Band was the first album in 1980, followed by On The Mark (1982), The Sounds That Move Air (1987), Philly Fillet (1987), Sunset Dance (1995), On the Half Shell (1999), Believe (2001), Not So Blue (2002), Lift (2003), Connected (2005), Unwind (2006), Chrome Play (2008), and this year 90°.
Doug describes his newest effort as melodic smooth jazz guitar with a unique Latin funk feel. He has written and performed all tunes, which is today's an act of normality.
Although the title Crashing Waves let us assume something of unruly nature, the tune has a friendly charisma of lovely seas. Acoustic guitar in the lead in relaxing atmosphere.
What do we musically associate with Caribbean Sky? Reggae, pan bands? Doug gives a melodious answer on his acoustic guitar. With Priceless Doug Markley offers a catchy Bossa Nova with the potential of a jazz classic.
The uplifting BMW Girl invites you to swing and dance. Doug can rely on the beautiful sound of his electric guitar. The rhythm part with a slice of techno cannot disturb this awesome melody.
A complex structure of a song is certainly more satisfying. So Ocean Floor finds my attention and respect. I fully understands Doug's message. Island Jam spreads joy and happiness. But there are also moments of contemplation on this album. Coasting let you dream.
You prefer it more mysterious? Then Solar Wind could be something for you. When you analyze the medicinal aspect of pot belly, you will find a strong correlation between central obesity and cardiovascular disease. I would reflect about the giving meaning of this title. The Last Road is like a full-bodied wine. Delicious on the first taste, fruity finish.
If you like great melodies and the natural sound of guitar, Doug Markley's 90° is without a doubt a hot tip.




Album Information

Title: 90°
Artist: Doug Markley
Year: 2010
Length: 0:42:54
Genre: Smooth Jazz
Label: Markley Music


Tracks:

01 Crashing Waves [4:35]
02 Caribbean Sky [4:06]
03 Priceless [3:39]
04 BMW Girl [5:06]
05 Ocean Floor [3:44]
06 Island Jam [4:16]
07 Coasting [5:34]
08 Solar Wind [4:10]
09 Pot Belly 1 [4:20]
10 The Last Road [3:23]