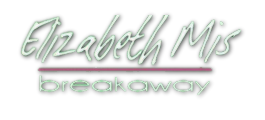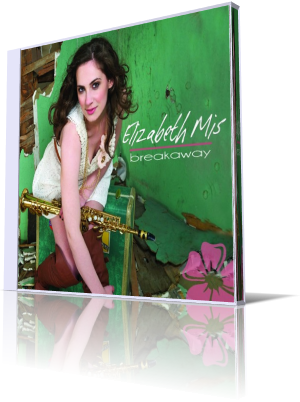 Cleveland born saxophonist Elizabeth Mis has entered the Smooth Jazz scene on tiptoe. Her debut album Forever and Ever, produced by guitarist Paul Brown, was released in 2008 and was only available at her website.
In 2012 she released Breakaway on Trippin' N Rhythm Records and everything changed. The album was produced by keyboardist Nate Harasim and executive producer was Les Cutmore. Most of the songs were written by Nate Harasim and Darren Rahn.
One must be aware that Harasim and Rahn impress their mark on this album. On the other hand, can the 21-year-old debutant shine with an excellent professionalism on the saxophone. The result is essential and this is coherent on the up-tempo title song.
With modern electronic beats the melody is driven forward on Flyin' High. Elizabeth can also bring a personal touch in this programmed environment. On It's Uh Girls World sometimes one notices that the techno flavored music is not always in unison with the warm tempered saxophone.
Keyboardist Nicholas Cole, whose first major label debut on Cutmore Records explores the Endless Possibilities, made a guest appearance on the song Into The AtMISphere. The artists do, what the title promises. On Buggin' bassist Julian Vaughn shows masterfully the groove. In relaxed pieces like Slow Burn is reflected in details and subtle nuances the skill of the young saxophonist. Cindy Bradley adds her own mood carrier on muted trumpet.
If you think with Not Too Late the album could run in standard lines, comes out Mis Behavin the opposite. With a stomping beat this infectious song conquers the hearts of listeners. The flirt factor is high on Sax Appeal. The album closes with the romantic When I'm With You. Steve Oliver sets a trail with his special singing.
Elizabeth Mis has a good start with Breakaway. How she develops depends solely on her. Hopefully she will put on her next album own impulses rather than relying on the Alpha males of smooth jazz.




Biography

Website


Buy the album in all stores

Album Information

Title: Breakaway
Artist: Elizabeth Mis
Year: 2012
Length: 0:39:58
Genre: Smooth Jazz
Label: Trippin' N Rhythm Records

Tracks:
01 Breakaway [4:24]
02 Flyin' High [3:46]
03 It's Uh Girls World [3:47]
04 Into The AtMISphere [4:11]
05 Buggin' [4:06]
06 Slow Burn [4:04]
07 Not Too Late [4:05]
08 Mis Behavin' [3:57]
09 Sax Appeal [3:45]
10 When I'm With You [3:54]


Musicians:

Terrance Palmer: bass; Matt Godina: acoustic guitar, rhythm & lead guitar; Frank Selman: rhythm & lead guitar; Cindy Bradley: flugelhorn & mute tracks; Julian Vaughn: bass; Steve Oliver; nylon guitar & vocal tracks; Nate Harasim: programming, rhodes, additional keys.