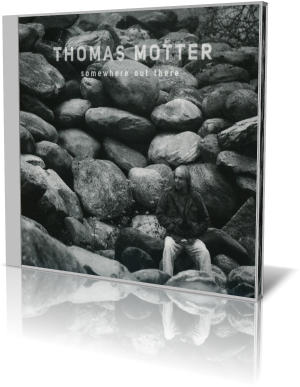 German keyboard genius Thomas Motter has always followed his own path in creating music of the finest vibrant quality. His albums No Return (2005), Nite Angel (2006), High (2012) and Lost & Loved (2013) are spectacular occasions of sounds. Somewhere Out There (2016) is the next level of musical evolution.
The album is enriched by an elite group of musicians. Ralf Gustke, Rodney Holmes and Camille Gainer Jones (drums), Larry Kimpel, Nathan East, Victor Bailey, Francis Hylton, Alvin Mills and Dany Martinez (bass), Bill Evans, Keith Anderson, Nathan Crosse (saxophones), Kalle Knecht (loops), Nene Vasquez, Dalma Lima (percussion), Greg Pena (trombone), Ebo Shakoor (flute), Kirt Dallaway (trumpet) are listed in the liner notes. In addition a large gathering of singers decorates the album.
While Bill Evans hits on his own albums the rock vibe, he lives on Your Smile the contemporary jazz dream. The impressive tune offers space for two guitar solos by Jimi Wilkes and Danny Martinez. With an deceptively subtle artistic sense of harmonic movement vocalists Angie Brown and Eric Conley make Call & Response 1 to a bluesy event.
Human vocals are the finest instrument, especially when singer LeNora Jaye swings the tuning fork. Waiting is the platform of her mastery and Thomas Motter on moog and keys is the chief of ceremony. I Will Let Go Now walks the tightrope between jazz, blues, soul and more featuring the excellent voice of Helena Paul.
Somewhere Out There is an impressionistic contemporary jazz piece in the style between Weather Report and Return To Forever. On Call & Response 2 Karl Frierson and Helen Taylor make the song to their own. On the Salsa tour de force Cuba Libre is speed king. Keyboardist Thomas Motter, drummer Ralf Gustke (Chaka Khan, Xavier Naidoo), bassist Dany Martinez and percussionist Nene Vasquez make the rhythm to their heart and soul.
Call & Response 3 finds Menoosha Susungi and Charles Simmons on the vocal side. A delicate and highly attractive bundle of energy wrapped in a package of notes. What you can do with the Do is the "Doo Bee Doo Bup Bow Doo". Vocal virtuoso Helena Paul shines on a freeriding course of scat singing. Moon 88 gives the torch to singer LeNora Jaye again. Melody is key, but phrasing is the lock to paradise.
Some musicians are recording albums just for having fun. Thomas Motter however creates on Somewhere Out There a monumental work with tremendous care and respect to the music. His forays in the striking mountain ranges of jazz and soul open spaces to new sound horizons.




Website


Buy the album in all stores

Album Information

Title: Somewhere Out There
Artist: Thomas Motter
Year: 2016
Genre: Smooth Jazz
Label: Rodenstein Records

Tracks:

01 Your Smile 9:15
02 Call & Response 1 3:37
03 Waiting 5:16
04 I Will Let Go Now 6:57
05 Somewhere Out There 7:54
06 Call & Response 2 3:37
07 Cuba Libre 4:00
08 Call & Response 3 3:37
09 Do 4:07
10 Moon 88 7:01