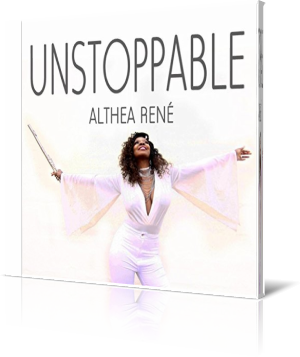 Detroit, Michigan born flutist Althea René had to decide if she should stay as a Wayne County Deputy Sheriff or as a full-time performing/recording artist. Fortunately, she let her heart lead the way toward music as her ultimate passion.
She started her solo career with the debut album Flute Talk in 2000. Soon the albums Chocolate Rush (2003), In The Moment (2006), No Restrictions (2008), In The Flow (2013) and Live In Detroit (2015) followed.
With Unstoppable (2017) Althea sends a clear sign of continuity and confidence in her musical future. Althea is joined on this album by Lin Rountree (trumpet), Turhan VanDyke (keys, trombone and horn arrangement), Mike Harrington, Allen "Snoop" Evans, Robert Skinner, Jamaal Andrews, Chris Ellis, Darrell "Red" Campbell (bass), Roscoe Henton, Darrell Crooks, Chieli Minucci, Joe Foster, Kenneth Morris, Tim Bowman, Frank Selman, LaVon Rushing (guitars), Marcus Hunter (drums and programming), Eddie Garcia, Barry Fry Jr. (percussion), Lew Laing, Derrick Harvin, Nicholas Cole (keys and programming), Joe Otis (drums), Alex Goss (keys), Greg Manning (piano), Marvin Bernett (steel pan), James Carter (sax and horn arrangement).
The album lifts off with the title song. A pure stroke of musical genius accentuated with a syncopated punch of flute flavor and a special extra by Lin Rountree on trumpet. With a lively and pearly tone Althea recommends herself on Gypsy Soul, a collaboration with Lew Laing, a God-sent gifted keyboardist of world-class level.
On the spacy Now & Forever, the second composition with Laing, Althea pairs with guitar legend Chieli Minucci who blazes a new trail on the contemporary jazz sky. What Cha Gonna Do with My Lovin' was originally released by Stephanie Mill in 1979. The melody is still fresh and Althea surprises with new facets. Greg Manning on piano and Joe Foster on guitar add the extraordinary jazzy savor, we admire every time on their live events.
Rain is a 1998 single released by the group Sisters With Voices (SWV). The musical backing track is based on Jaco Pastorius' Portrait of Tracy. Covers are already released by Norman Brown (Celebration) and Kim Scott (Crossing Over), but in all conscience, Turhan VanDyke on keys and flutist Althea give this song a completely new direction.
Althea's keen sense for harmonics finds its expression in Changing Lanes, a great example for a splendid arrangement and flutes overdub. My Summer Love is another catchy groove. Althea created with keyboardist Nicholas Cole a pulsating vibe of overflowing joy. On I-75 the blessed flutist teams up with saxophonist Elan Trotman, a flawless duo in performance, arrangement and composition, ready for some live events.
Another instrumentation, another chapter of music, another style. When I See You superbly combines elements of world music and smooth jazz inviting Marvin Bernett on steel pan and LaVon Rushing on guitar. Final song of this formidable album is Another Star by Stevie Wonder interpreted by vocalist MiChelle Carey and further developed by Altea Rene and her crew, a greatly evolved artistic triumph of personal expression.
Althea René's album Unstoppable is a blistering sign for the sparkling vitality of smooth jazz. The next generation has already reached a high level of professionalism. The audience has just to accept the new faces.




Buy the album in all stores

Album Information

Title: Althea René
Artist: Unstoppable
Year: 2017
Genre: Smooth Jazz
Label: Independent


1 Unstoppable 3:34
2 Gypsy Soul 3:42
3 Now & Forever 4:17
4 What Cha Gonna Do with My Lovin' 4:10
5 Rain 3:32
6 Changing Lanes 4:06
7 My Summer Love 4:16
8 I-75 4:47
9 When I See You 4:21
10 Another Star 7:12